Jordan 11 DMP '2023': The Special Snowflake this holiday!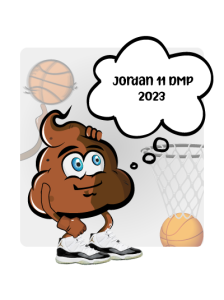 Are you ready to enjoy your holiday season with legendary Jordan kicks? We're talking about the iconic Jordan 11 DMP. This sneaker is on the Mount Rushmore of shoes for many fans because it is bold and distinctive. The magic behind the shoe is that it rarely goes public. Jordan 11 DMP 2023 has strong cultural significance in the sneaker community. The original release was in 2000 as part of the "Defining Moments" Pack honoring Michael Jordan's 1991 and 1996 NBA Championships. Well, this grail will be a hot welcome back, read on for the whole story.
Air Jordan 11 History
The story is fascinating. It started when MJ shook the world in his retirement. However, his decision to return back to the NBA in 1995 was a breath of fresh air for all his fans! The sneaker stood as a symbol of sorts for MJ's comeback. During the Chicago Bull's historic 72-10 season, MJ wore this Concord colorway. This was the biggest boost of the Jordan 11 profile, one of the most sought-after sneakers. And you know? To this day, it's one of the most beautiful basketball sneakers ever. It's the one that made Tinker Hatfield a legend of the game. And if the AJ11s are good enough for you, then the Jordan 11 DMP 2023 should be just as hot!
A closer look at the Jordan 11 DMP 2023
Before anything, y'all need to know that part of being a sneakerhead is looking like one! So, make sure you know how to style your precious kicks. Cause they're no use to you if they don't fit the fit!
As for Jordan 11 DMP 2023, it is complex yet so simple and iconic! This beautiful silhouette is true to the original version from  2000 and in 2006.
This classic offering features glossy patent leather with wavy trimmings and white tumbled leather overlays. Also, it presents the  Metallic Gold" Jumpman logo and Michael Jordan's emblematic 23 jersey number. The Jordan 11 DMP will drop on the 9th of December and will be available in full-family sizing. Also, guess what? It's yours for $200.
But just in case brights and whites aren't exactly your thing, check out our favorite Black Jordans that will definitely satisfy your cravings.
Snatch the Hottest Kicks for Retail
The Jordan 11 DMP 2023 is where profit and memory meet! If you're a sneakerhead you know for sure how these epic kicks will bomb on the aftermarket. The average resale price of the AJ11 DMP (2006) is $521 on StockX for a 125$ retail price! This is a great example of an expensive Jordan. This release will score the same and maybe higher profit, with a 225$ retail price. These kicks are definitely worth a shot! However, you need to have in your hands a Nike Bot to grab these sneakers before they're out of stock on the retailer's sites. TSB is the best-kicking ass for this game. For only $300 per year, you will be able to cop all this good shit. Don't forget to hook up with good proxies and a Nike account. However, if Jordans aren't your scene get yourself a pair of the best Nike dunks.