Jordan 1 True Blue: Too Hot For An Icy Winter Color!
Hey Hey shitfam! Made any New Year resolutions yet? Well, if you're a sneakerhead then them resolutions should definitely include copping dope kicks! And 2023 seems to be holding a lot of those! However, if you're still one foot in, and one foot out in the sneaker resale market, then there's something you ain't doing right. The real thrill of sneaker copping comes with knowing all tactics and loopholes of the game. Lucky for y'all, we're here to guide you through it all! But before we do that, let's introduce one of January's drops: Jordan 1 True Blue. So, here's what you gotta know about them kicks. However, if Jordans ain't your cup of tea- no judgment- you can check out the upcoming St. John's Dunks!
One more thing peeps, if you're an Eastbay customer, then you might want to know that Footlocker's baby is saying goodbye and shutting down. So, now you gotta look for other places to buy sneakers online. And if you decided you wanted a guide for that, click here!  
Jordan 1 True Blue
Seems like we're getting OG True Blue retro! Jordan Brand made it a habit to swap colorways between different silhouettes. So as a nod to the 35th anniversary of Air Jordan 3s, Air Jordan 1 will take on two of AJ3's most classic color schemes. One of them is the True Blue of the upcoming Jordan 1s. The other will be the White Cement, but that one deserves a talk of its own, which we'll get to in the near future. 
Enough with that for now. Let's get down to business! Jordan 1 True Blue features a simple, yet awesome white leather base. While the overlays will come in, not so difficult to figure out, true blue leather! And although we treasure the brand's love for simplicity, it wouldn't leave the kicks THAT simple. A touch of grey on the heels and the outsoles break that monotone, making them kicks looking too hot to even wear!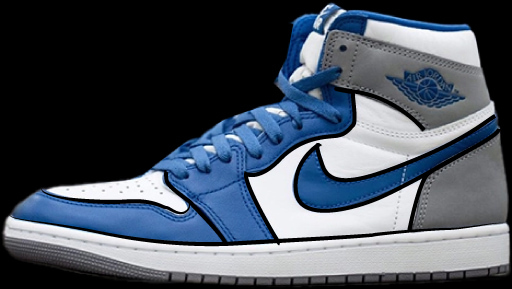 Release Deets 
Jordan 1 True Blue will drop on January 14, 2023. The same day Dunk on Mars hits the shelves! Speak of lucky days. So, the kicks are gonna retail for $180. But the resale, however, is all beer and skittles! A pair of True Blue Jordan 1 is worth $254 on average. You know what that means? Cop multiples, resell them, and you'll be flipping through that money!
How to Buy The True Blue Jordan 1 High? 
We're still at our promise mentioned above! We're gonna tell you the way to cop Jordan 1 True Blue off retail. Or any Nike SNKRS drop that is. And trust us when we say that we know how crappy they get! Especially after Nike decided it's fun and games to target resellers, not once, but twice in ONE year! But even after whatever shit the Swoosh pulls, don't let them people constantly taking Ls twist your arm and make you lose hope of ever catching Ws fam. Maybe them peeps don't have a good Nike bot. Or they got the right bot but they hook it with the wrong proxies and Nike accounts.
Therefore, you must learn from others' mistakes and you'll be good to go. However, you must keep in mind, even with you geared up with all the right copping tools, they still won't guarantee the Ws. But they sure as heck make them odds go sky-high! Besides, you gotta make sure you're up to date with all sneaker news and release deets. The latter change more than sneakerheads' minds when they wanna sell a pair of hyped kicks. That's why connections matter in this industry. And to do that, you gotta join good cook groups. They're your right hand in getting the sneakers you want! Happy copping yo!