St John Dunks Are Making A Comeback In 2023!
We've gotten used to Nike restocking Panda Dunks like crazy. But sneakerheads been waiting since 2020 for Nike to give St John Dunks the same treatment. And 2023 is the time Nike answered its kick-fanatics' wishes. 
Just like the 2020 joints, St John Dunks will sport a two-toned all-leather design. The kicks feature a white leather base overlaid with gleaming Red overlays. University takes over the swooshes, sockliners, and tongue labels. The contrasting shades finish off the design by taking over the soles, with white covering the rubber midsoles, while red shading the outsoles!
Get Your St John Dunks With The Shit Bot
With all them knock-off lawsuits and people questioning the legitimacy of StockX, you gotta be too careful while buying Nike kicks these days. And what better way to do that than getting them directly from the source? No middlemen, retailers, or resale markets needed. Of course, we're strictly talking about buying here, not selling. You could still use reselling platforms for making hundreds and thousands of dollars!
So, if you wanna cop limited-edition kicks like the upcoming St John Dunks, what should you do? Just like on the battlefield, you gotta put on your armor first. Trust us on this, as this analogy perfectly fits every copping war that goes down on SNKRS! So, that armor is nonother than a kick-ass Nike bot. More specifically, The Shit Bot. TSB is exactly what you'll need to get your hands on ANY Nike kicks you want. But you gotta also know that you'll need some other tools to go along with it. Starting with dope proxies and the best accounts. And if your server is kinda sluggish, then consider your tries doomed from the beginning. But we got you a solution for that too! You can get your own rocket-like server, in a matter of seconds!
Now as, there's still time for St John Dunks to drop, you can start practicing your copping skills with the upcoming Jordan 7s!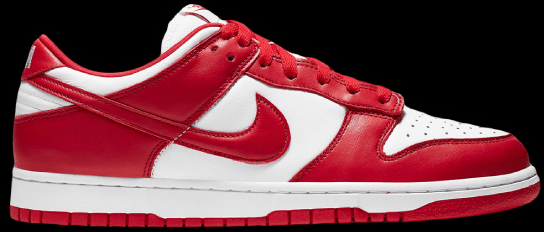 Release Deets 
So if you skimmed all through that shit, that's okay. You can get back to it later after you know of the goodness this upcoming release holds! So, St John Dunks are coming back sometime in 2023 as no definite date has yet been announced. They'll also retail for their usual $110, as inflation hasn't hit the industry fully… yet! Therefore, if you want that shit, you better gear up nicely! As we got no idea if we'll see these dunks ever again after this drop. 
Whether you're in it for the flex or flip, these joints along with their resale price are looking way too good! The 2020 babies are now reselling for $454 on average! Know what that means? A couple of pairs could make you around 1k! So, if you like the style, get yourself a pair for the keeps. But don't forget to add a couple more to your cart for that flip! 
Getting a lil bored that you're ready to get lost in the digital world? We got ya, fam! Check RTFKT's new project with Nike. Who knows? You might eventually find yourself selling and buying NFTs! Good luck shitfam!