Sneakerhead Gifts: Think Outside The Box!
Tis the season to be jolly! Tis the season to receive and give gifts! Well, the latter ain't so exciting if you're broke. It's that time of the year when you're excited about but dreading at the same time. Especially if you have a sneakerhead in your life. That elite soul tends to be hard to please. However, that same soul appreciates thoughtful not-so-expensive gifts too…as long as they're sneaker-related, of course. So peeps if you got no time to search shit up or struggling to find the best sneakerhead gifts, you're at the right place. 
Sneakerhead Gifts? No, Not Kicks..
Now before anything else, if you ain't a sneakerhead yourself, don't think about buying another sneakerhead some kicks. One chance in a million you'll get it right, and they'll like what you got. Unless they told you before they want a specific sneaker, it'll just be a disappointment in the making. After all, most kicks sneakerheads want are either too expensive on resale platforms or dropping in limited editions. And the latter requires another sneaker-obsessed to score it. So, skip 'em kicks, 'cause it will just be like buying a baker some bread. 
1- Sneaker Care Kit
OSD or Obsessive Sneaker Disorder is coin-worthy these days. Sneakerheads are becoming even more obsessed with caring for and protecting their kicks. And we ain't blaming them one bit. After taking a lot of Ls, Ws become a sacred thing that should never be taken for granted. So, to keep 'em kicks in their best shape, lookin' squeaky clean and as fresh as the dawn of a new day, a shoe cleaning kit becomes a must-have. one of the most efficient sneakerhead gifts would be a sneaker care kit. The most affordable one you can get is SneakerAid. It got all your sneakerhead pal needs to keep their kicks squeaky clean Get it today off SneakerAid store. 
2- Sneakerhead Books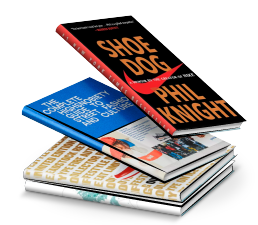 The sneakerhead you buying a gift for is a bibliophile? Then rest assured we got the best books for them. Although they won't let them cop the shit they want, these books offer styling advice and more knowledge on the history of kicks. Mainly the history of the best brand in the world, Nike. It makes you appreciate sneakers in a different way. And maybe getting to know the history makes you gain deeper understanding of what exactly to buy and what to discard. Here are some dope suggestions:
3- Sneaker Storage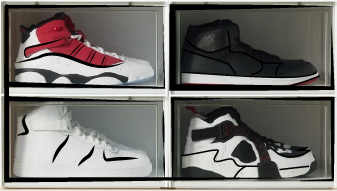 Wearing kicks ain't enough for sneakerheads. They need to store them as people store away their prizes. Or sometimes display them. At the end of the day, it took 'em some blood, sweat, and tears to cop that shit. So, Container Store cases are one of the gifts you could get your sneakerhead. Valuable sneaker piles on the floor ain't it, peeps. This shoe storage has four shoe boxes in which sneaker collectors can put their favorite kicks on display. However, you gotta make sure you get a perfect size. And this depends if the shoes are high-tops or low-tops. XL would work for the former, while a large size would be a perfect fit for the latter. This case sells for $91.96. 
Now, if you're buying a gift for a sneakerhead that does a lot of traveling, then Shoe Cubes or a Nike Shoebox is your answer. They both sell for $35 a box. The latter is more stylish than the first as it looks more like a stylish handbag. 
Wanna go bigger?
If you got the budget for it, one of the best sneakerhead gifts would be a storage unit. Most cities got'em and they solve the biggest dilemma of where to store kicks. They sure as heck cost more than shoeboxes, but they're worth every penny!
4- Gift Cards
Now a good way to avoid handing unwanted sneakerhead gifts is to offer Gift Cards. This option really ranges in the budget so it suits everyone. And you'd be gifting them the gift of choice. of choosing the kicks they like the most from their very own paradise- Nike Gift Cards are your best option. They start at  $25 to whatever number you customize. But of course you ain't gifting someone a $25 Nike gift card. The best range would be between $300 and $1000. 
5- Sneaker Bot
Let's wrap this sneakerhead gifts list with the ultimate present ever. This gift just seals the deal and no one would ever top it off.  It's a sneaker bot y'all. You got a lil cash on the side and that sneakerhead means shit to you? Then there's nothing they could appreciate more than this present. An epic sneaker bot is like gifting a person a whole-ass investment. And an epic recommendation would be TSB. This bot costs $300, but not for weeks or even months. You can run it around the clock for an entire year, copping the most valuable kicks on the aftermarket at their retail price. A sneakerhead investing in a bot like TSB can make hundreds and even thousands of dollars as profit if they know what they doing. 
TSB can help you cop ANY Nike and Jordan kicks you want. So it's basically a limitless gift your friend can use to kick off their most profitable side hustles yet! 
On a final note, sneakerhead gifts are endless. And no matter which one you pick, kicks are still your topic. So, make sure to keep it locked to our blog for sneaker drops and news.