Jordan 5 Mars Be Takin' You Beyond The Ends Of Earth!
Mars is there, waiting to be reached. Well, not to brag or anything, but Jordan Brand not only reached the Red Planet, but it also brought it right to your feet in the form of Jordan 5 Mars For Her! And we all know how much colorways add to a sneaker's appeal. And let's say y'all developing a fondness for astronomy after getting a look at these Jordan Mars is very likely! Question is: now that the brand went far and beyond in its designs, what's next? How will it ever top an already top design? Guess we have to wait and see! Or not… the brand's already outdoing itself. Take a look at the Spring 2023 lineup and you'll get where we're coming from. And speaking of cool kicks did you know that Panda Dunks are restocking AGAIN? 
Jordan 5 Mars For Her: Taking You Beyond What Earth Has To Offer!
Okay, we love us some out-of-this-world talk, but we need to talk about the actual kicks at hand (Hopefully they be in your hands). With their hot red colorway, they sure as heck will have you making a flashy entrance. Certified sneakerheads would get how important flexing cool shit is. So, Jordan 5 Mars For Her features a "Raging Bull" look-alike color. Red suede covers the uppers and yellowish netting and some outsole parts. A touch of orange added to the teeth on the midsoles is proof of the hotness these kicks hold. Red 23s, shadowed in black and positioned on the lateral heels complete the look! 
Who's behind the whole mars inspiration you ask? Well, if you're an 80s kid you might have an idea as its inspiration goes that back! She's Gotta Have It is a movie that dropped in 1986 that stars a fictional character named Mars Blackmon. Mr.Blacmon is a huge fan of Air Jordans. From then and through the 90s, Michael Jordan and Mars made several commercials alongside each other. Which people believe they are one of the main reasons for Jordan's wide popularity today.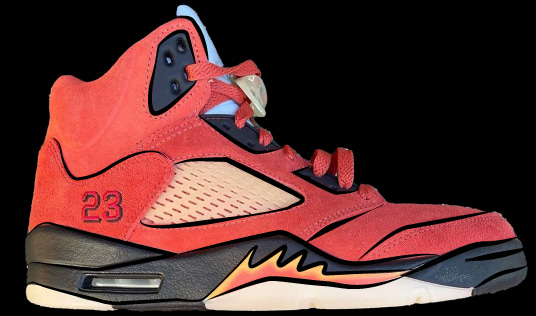 Release Deets 
Jordan 5 Mars is a must-cop, so you gotta know when and where to get it. Don't ya worry one bit as we'll provide you with the deets you might need for this drop. Annd any other awesome drop that is! This pair is coming on January 14, 2023. The same day True Blue AJ1s will be dropping. These Jordan Mars will retail for their usual $200. All things aside, a pair is selling for a minimum of $444 and a maximum of $774 on the aftermarket! Now that's a pair worth both the flip and the flex, ain't it?
Cop Jordan 5 Mars So You Get A Taste Of Outer Space!
You gotta be the fastest when it comes to Jordan drops. You know how shit gets on Nike SNKRS, especially when it's a hot drop like Jordan 5 Mars. So why go through all the pain trying (and most probably failing) to cop manually, when you can run a great Nike SNKRS bot? Great as in a bot like TSB kinda great that'll grant you a fair chance at copping a pair or multiple of 'em. Just remember that a sneaker bot can't do shit alone unless you pair it up with some good proxies and Nike accounts. But always remember, shit needs patience as it's all about a trial and error kinda thing fam! Good luck!