Red Jordans to Spruce Up Your 2021 Holidays the Right Way!
Deck the halls with kicks o' winter falalalala lalalala 'Tis the season to be dapper falalalala lalalala! But naturally, you won't look drippy, dapper, or even cool, if you didn't own some red Jordans. And because every kind of holiday needs a specific sneaker colorway, we made a list! We do love them lists, but you know, that shit will come in handy. And once the spooky kicks are over, you know you're gonna be looking for the Christmas flex! Now let's check out what red J's you should wear when you pose next to the tree this year.
Jordan 5 Raging Bull (2021)
Aka the better half of the DMP 2009! I mean, not that the black colorway is shit or anything. The whole pack rocks, but red Jordans are always a vibe on their own. And when the brand revealed the release in 2021, we knew we coppin'. So these babies dropped in April 2021 and retailed for $190. Our shit users copped 8,000+ pairs and made $1M+ in profit! Today, the Raging Bull Red Jordans are worth $260.
Jordan 13 Red Flint
Next up, we got a pretty damn underrated pair. Although the industry sleeps on these, we like 'em because that shit looks so fine. The inspiration behind these is the classic Jordan 13 Flint, with a red twist. These kicks dropped in May 2021 for $190, and today they're worth about $230. So if you're looking for Red Jordans that won't break the bank, these should be on top of your list.
Jordan 13 Red Twist: The Cherry on Top of Red Jordans
If you wanna add a lil flavor to this list, this is it. The Red Twist 12s are the perfect pair if you like subtle kicks with a pop of color. The kicks dropped in July 2021 for $190, but you can always rock these during the winter days. If you know you're staying in on Christmas Eve, that's exactly what you need to add drip to your look. You can buy these babies off the resale market for $234 on average!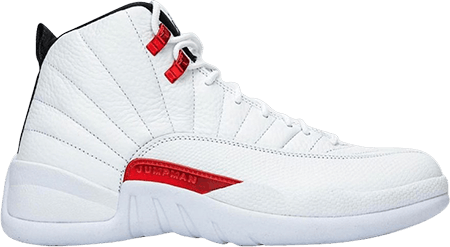 Because Red Means a Kickass Lipstick
Just last month, the list of fall Jordans wrapped up with a women's pair! And what better inspiration for red Jordans is there than red lipstick? The Jordan 12 Red Lipstick is also cool if you're going for that fun but lowkey vibe. It dropped in September 2021 for $170, that's $20 cheaper than the average men's shoe, so win-win. Today you can snag a pair for about $223!
The Best Jordans Are OG Red Jordans!
Now this one didn't drop yet, but fam, this shit is gonna be worth running a bot for. The new Jordan 1 Bred patent is a mad take on the OGs! It will drop just before the new year, on December 30, 2021. So maybe consider it your Christmas gift for yourself! Retailing at $170, this pair is worth it on so many levels. Not only does it look sick as heck, but you can also flip it for $928 on average! So keep your eyes on the prize this holiday season. And if you need more info, we're gonna deliver that shit on our blog pretty soon. See ya homie!