Nike SB Crater "The Moonwalker": Ever Heard of Zero to Hero?
Ever since the Nike Space Hippie packs floated down one after the other from the recycling factory high up above, Nike's "Move to Zero" initiative got us wishing for trash. Because with the resale values of these booming sneaker innovations, regular kicks were barely keeping up. If you were alive and well when the first Nike Space Hippie pack dropped, you remember that each sneaker was reselling for thousands of dollars. Only now, the hype has gone down and the environmental contribution of the Nike mothership has been recognized. Without the anticipated green value in return, if you know what we mean. Before the Nike SB Dunk Low Pro "Crater" gave garbage sentimental meaning again, the Jordan 1 Zoom "Crater" had us gawking at what is now reselling for below retail. Looks like the hype of environmental sneakers, even if they are Nikes and Jordans, has a short life-span. Probably cause they're ghosts who gots to go.


We're almost in mid-October. Which makes our Off White Nike Rubber Dunk success two weeks old! But ain't no time too long or short to put aside half a million dollars in profit. How time flies when you're copping Nike, ain't that right fam? We've got some serious Halloween shopping to do this month. Plus some seriously slick Jordan silhouettes that call our shots. The Jordan 1 Lucky Green is dropping tomorrow and we're getting our sturd on. And just cause we are what we cop, one lucky winner is going to win an official TSB copy. How do you like them green apples?

Nike SB Dunk Low Pro "Crater"
In addition to the Nike Space Hippie packs and the Jordan 1 Zoom pair, the Nike Dunk Low "Community Garden" dropped a while ago. Also in support of the Nike grind structure the brand's been promoting lately. Blue and multiple shades of grey dominate this Nike SB Dunk Low Pro from canvas to outsole. With speckled dark grey overlays and a neutral grey base made from reused materials. Although minimalist, this Nike SB boosts the image of skate shoes in general. By steering them away from their juvenile stereotype toward sustainability. Since Nike could have dedicated their eco-friendly initiatives to certain sneaker models only. But choosing to spread it across its most popular models like Air Jordan, Dunk, and SB Dunk shows how serious they are about their mission toward the planet. Plus, ain't nothing flawed about marketing innovation through thousand dollar worth products.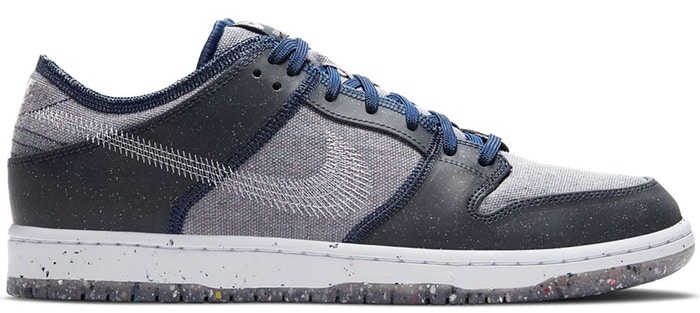 Save the Planet and Yourself?
Expect the Nike SB Dunk Low Pro "Crater" to drop on October 17th. No retail price has been set yet, but it will most likely sell for $100. So if you're feeling save-the-planet-y or are tempted by the $1,000+ value of these kicks, RT to save a life with TSB! Because copping with the best Nike bot on the market might do just that for ya. There's a chance this SB Dunk will compete with the best Nike sneakers we copped in the past month. And there's a chance it'll drop in value like its recycled ancestors. It hasn't been done on an SB Dunk before so it is definitely and totally worth your shot!