Eastside Golf Jordan 1: This Fall's Ultra-Limited Game Changer!
Ready to shift away from the bright bustle of summer hot drops to mellow and pumpkin-spiced releases? From haunting Halloween 2023 sneakers to the global fiesta of the SNKRS Day 2023 in September, there is so much to love this fall! And who's better to kick off this promising season than our one and only Jordan Brand? But now it's time to take over the golf course fam! We've already witnessed the Brand's success on the NBA court and the skatepark. And trust Jordan Brand to get a hole-in-one by dropping the extremely limited Eastside Golf Jordan 1! 
Since 2021, Eastside Golf and Jordan Brand have been ingeniously transforming timeless Air Jordan designs! Spanning from the Air Jordan 4 to the Air Jordan 12, into golf sneakers that flawlessly marry flair and functionality.  Remember the awesome "Out The Mud" Collection from last year? This time giving the Air Jordan 1 a golf-ready makeover.
But wait, what's the buzz about this pair that's got everyone's heads turning? Picture this: We're talking about a shoe that's not just a sneaker! It's a statement, a collector's dream, and a true gem in the world of limited editions. But hold on, there's more to this story. Ever wondered about the story behind Eastside Golf? And what's the secret sauce that makes this collab a must-track?
So, without further ado, let's dive into the hype of the Jordan 1 Eastside Golf 1996 release!
P.S. If you're eager to put your hands on more ultra-rare Jordan kicks, don't miss out on the Jordan 1 Satin Bred dropping this October! 
1961: Breaking Barriers and Changing the Game
Let's start with an inspiring story that's all about breaking barriers and shaking up the world of golf.
Back on June 1st, 2019, Olajuwon Ajanaku and Earl A. Cooper kickstarted Eastside Golf as a lifestyle golf brand.  These brilliant minds behind Eastside Golf, are way more than just talk when they say they want to "grow the game."Now imagine a time when competitive golf was like a members-only club for white folks. But In 1961, a game-changing shift happened! The PGA swung open its doors, bidding farewell to their exclusivity rules and welcoming new players. This a message that hit home for both brands as they're all about making golf more diverse and inclusive.
Eastside Golf Jordan 1 Takes Golf Style to New Heights!
Now, let's dive into the jaw-dropping design of the Eastside Golf  Jordan 1. The color palette itself is like a work of art: a tasteful fusion of Black, Malachite, Metallic Gold, and creamy White.
The upper keeps it sleek in a dual-tone dance of black and green, where green leather forms the base and black takes the overlay spotlight. The famous Swoosh transforms into Eastside Golf's cursive branding, adding that distinct flair. Just below, the AJ1 proudly displays "CHANGE" and "1961" on the heels in bold black. Even the packaging echoes this with the same words atop the box, driving home the transformative shift of '61. And to cap it off, the right tongue rocks the Eastside Golf logo, while the left tongue tips its hat to the timeless Air Jordan emblem. But wait, there's more! Golden-tipped laces add a touch of luxury, matching the metallic gold Wings logo on the collar to perfection. 
Mark your calendars for September 8th, when the game-changing "Change" Eastside Golf Jordan 1 High hit the scene at $200 via Nike SNKRS.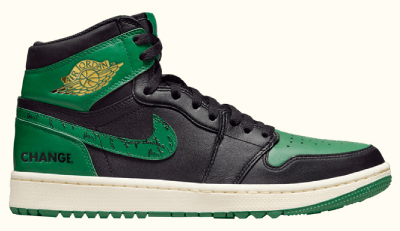 Get Ready for The Can't-Miss Arrival of the Year
Well, with their limited-edition status, the upcoming Eastside Golf Jordan 1 will likely sell out quickly! And fam, let us tell you that resale value's lookin' more than good. Kicks are reselling for $477 now on GOAT! Well, the price might just skyrocket anytime. I mean, the previous Air Jordan 4 x Eastside collab is scoring an average of $1857 on the aftermarket! So, imagine scoring multiple pairs of these Jordan 1 Golf shoes! That's some serious cash right into your pocket!
So this drop will be a real battlefield! However, there's a secret weapon in town, and it's called The Shit Bot (TSB). With this ultimate Nike bot, and for just $300 a year, you're not just buying kicks, you're buying a strategy. Say goodbye to Ls and hello to Ws shit fam!