Year Of The Rabbit Dunks Got Us Anticipating Another New Year!
Oh, the perks of being a sneakerhead! Y'all get to celebrate not one, but two New Years! And we've already celebrated 2023 with a dope Nike lineup that grows a lil more with every passing week. Now, it's time to celebrate the Chinese New Year with a new collection. The Swoosh already revealed its Year of the Rabbit Jordan collection. Which left us clinging to hope for a similar Dunk drop. And being the generous thing it is, Nike answered our dreams and revealed not just a pair, but a collection of four Year of the Rabbit Dunks! Disappointment simply ain't in the brand's blood. And we're grateful for that! So, let's see what this Dunk collection looks like. 
But in case you wanna take a look at shit other than Jordans and Dunks, Air Max 1 Shima might be the kicks you're looking for! Besides, if you wanna keep up with everything going on in the industry, our blog is your 24/7 news guide! 
Year Of The Rabbit Dunks Belong To An Art Studio.. And The Resale Market! 
One collection, four kicks. Y'know what that means? It means that no Dunk lover would be disappointed, as each pair got a different colorway that suits specific styles. From colorful to muted colors, it's all there. Now, let's check out Nike Dunk Low Year of the Rabbit collection!
Nike Dunk Blue Orange Cream
If you're into vibrant Dunks, these are definitely the pair you've been looking for. Dunk low Year of the Rabbit sidesteps tradition a little bit. Gone are the all-leather smooth overlays, as a colorful satin mix- blue, teal, and reddish orange- covers the uppers instead. What about the Swooshes? Well like every Year of the Rabbit Dunks, white chenille material covers them to give that rabbit vibe. You can see another rabbit-focused detail on the lateral heels as a lil bunny sits there. And as not every New Year is a Year of the Rabbit, we gotta mark things up to honor this year's festivities. That's why you'll find them lace dubraes with "2023" on them. The best part? These babies are reselling for $265 on average on the aftermarket!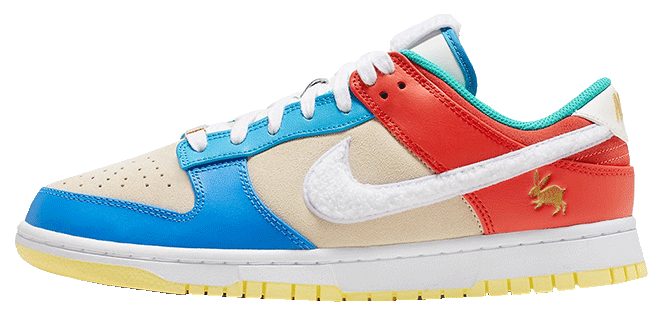 Nike Dunk Low Brown Orange
To keep the spirits high, Nike introduces another dunk with vibrant colors. Not colorful ones like the above though. This Year of the Rabbit Dunk low features brown and orange colorways. So, kicks will come in a suede orange base, overlaid in the richest brown leather out there. Brown mainly covers the mudguards and eyestays. Additionally, just like the rabbit's fuzzy fur, chenille material covers them swooshes. But unlike the above pair, these will take on a brown color. And they're now worth $280 on resale. 
Nike Dunk Low Mocha Brown
Off with the colorful pair and on with more muted colorways. These Nike Dunk Low Year of the Rabbit features an off-white and a light brown shade. So it basically features a light mocha base, overlaid with off-white leather and a lil Sail. Creamy chenille Swooshes add to that soft look. Now, these are kicks worth a cool flex, and most importantly, a good ol' flip. They're reselling for $346. That's more than triple their retail y'all! 
Nike Dunk Low White Crimson Varsity Royal
Here comes the last pair of the Year of the Rabbit Dunk collection. This one is a mix of the above three. It includes muted, vibrant, and rich colors all at the same time. And if you were here 12 years ago, it'd definitely give you familiar vibes. Because this same colorway dropped on an Air Force 1 in the last Year of the Rabbit, in 2011. Red chenille Swooshes, white leather overlays, suede leather underlays, it's all there. The only two differences 2023's pair got are the translucent soles now added and the rabbit motif. Which moved from the back of the kicks to the lateral heels. Regarding resale, these dunks are now reselling for $243. 
Wanna Catch One… Or Multiple Dunks? 
All four pairs of the Year of the Rabbit Dunks collection will retail for $110. And as you've seen, they'd be worth every penny. So, if you wanna buy these kicks, make sure you root for multiples. One for the flex and the rest for the flip. This might be the sign to kickstart your reselling journey after all! However, you must know that this kinda journey needs more than you putting on a cool pair of fire Dunks and heading off. It requires learning all copping tactics. Which starts by finding a powerful Nike bot. Then hooking this sneaker bot with even more powerful proxies and great Nike accounts. Good luck shit fam!