New Air Jordan 1 Mid WMNS Dropping Some Light Bulbs This Easter!
We got Jordan multicolors splattering all over Easter 2020! But that's not all this fruitful AJ1 silhouette is bringing this spring. Because with the court king signing off on the AJ1 Court Purple, we got the court queen stepping up the color game! Girl power be buzzin' in 2020 with Sheila Rashid's AJ1 Mid and Melody Ehsani's sweet & sour! That girl's 2019 Fearless AJ1 be haunting the shit out of this AJ1 WMNS! And to be fair and totally there, so does Blue the Great of Fearless 2019. So Air Jordan 1 Mid WMNS got all the hype. And we got some Fearless drive behind this one. To clear up the female intent real good. This girl gon be flying like Jumpman, or woman. For a change! It's like Valentine's for the love of SPORT, rainbow babies!
Air Jordan 1 Mid WMNS: A Light Year for Every Light Bulb!
So, we've got suede and leather taking turns on a clean white leather base. The black Swoosh and blue eyestay use up patent leather. And suede is applied in pistachio green on the toe and heel areas. And in purple on forefoot and upper heel patches. Yellow suede dominates the heel counter. And we've got the Achilles soaking in team orange. We sure sense something cooking over on the female lane! But zig zag red stitches cover that right up on the forefoot and black Swoosh. Way to imply unfinished business ladies! Virgil Abloh got in on that with them orange stitches on the Jordan 1 Retro High back in 2018!
This Air Jordan 1 Mid WMNS will release on April 9, 2020 on Nike.com and select retailers. Stay posted for cost updates!
[4/08/20 UPDATE]: The Air Jordan 1 Mid WMNS will sell at a retail price of $125.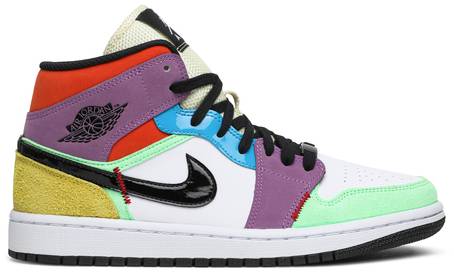 Got a Brighter Idea? 
Goes without saying, ladies, that this Air Jordan 1 Mid WMNS is made to be on your top 5 Jordan must-haves in 2020! And to those who vow commitment to you and shit, you know what you'll be copping this Easter if you want some bunny love! TSB will keep you out of trouble this holiday season, fam. We already have one outbreak too many! 
S/O again @The_Shit_Bot arrived today ! 🔥🔥🔥 pic.twitter.com/Sf6RXzzvVg

— SilentChef (@KenjiCheh) March 23, 2020
First hit on SNKRS using @The_Shit_Bot and @BoroInc accounts. Thank you 👍🏻 pic.twitter.com/Y0xh8mhQpc

— Brandon.Scarlet (@EmoSalvatore) March 18, 2020