NBA Paris Dunks Swishin' in for 2024's Big Game!
Nike's been the NBA's ride-or-die for years, always lacing them up with top-tier gear. Now, they're here for a lit reunion! The NBA is making a grand comeback to Paris in 2024, promising all the hype of the league's return to the City of Light. To celebrate this epic event, Nike's dropping a fresh addition to their 2024 lineup: the NBA Paris Dunks. These exclusive kicks are the ultimate way to show love for the league's third regular-season game!
Parisian Flair Meets the NBA Paris Dunks Design
For now, the NBA Paris Dunks are an absolute visual banger! These kicks rock an all-leather build, dripping in a mix of neutral olive, white, and black. They start clean with that white leather base, then level up with olive and grey overlays, all finished with sleek black deets. Also, they're showing love to the City of Light with the NBA logo on the side and 'Paris' on the insoles.
Hold up, ain't it lookin' like these NBA Paris Dunks are twinning with the Travis Scott Jordan 1 Golf? That drop everyone's hyped about this October!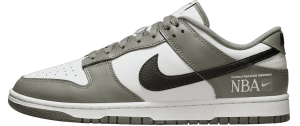 Release Details
We don't have the official drop info for the Nike Dunk Low NBA Paris yet, but word on the street is they might hit in January. Why? 'Cause on January 11th, the Cleveland Cavaliers are taking on the Brooklyn Nets right in the heart of Paris.
And these Dunks? They're a steal at just $200! Even if you ain't a sneakerhead, trust us on this one. And if you're looking to cash in, peep this: the 2020 Air Force 1 "NBA Paris" is flipping for a crazy $500 on StockX right now!
Plus, these Nike Dunks are dropping in a limited run, they might end up on our rarest Dunks list. So you know they're gonna be worth their weight in gold on the resale market. 
Mastering Dunk Drops: Your Winning Game Plan
If you're dead serious about scoring those NBA Paris Dunks, it's time to level up. Missing out on SNKRS can be scarier than a haunted house, no cap! So, to dodge that sneaker nightmare, you gotta have a solid Nike bot that won't break the bank. And don't forget those top-tier proxies – they're essential. Load up on Nike accounts too! Once you've got these basics down, your chances of copping a W will be through the roof!
And last but not least, don't sleep on the best sneaker apps in the game, right here. Consider joining a cook group too, so you're always in the loop on what's poppin' in the sneaker world!