Jordan 1 Royal Reimagined: Vintage Vibes on High Anticipation!
Ready to dive headfirst into the world of sneaker royalty? You won't want to miss this epic downpour of OG Air Jordan goodness. Jordan Brand knows that sneakerheads, both old and new, want a piece of its epic history. That's why they came up with the "Reimagined" series.  This series featured the Chicago 1s and White Cement 3s with a few tweaks. Now, it looks like this collection is on the rise, and there's more heat on the way! The highly anticipated release of the Jordan 1 Royal Reimagined,  will stay true to its 1985 roots. This iconic drop is like a treasure chest of history and style, waiting to be cracked open. 
However,  before we dive into the juicy details, let's have a quick flashback! The Jordan 1 Royal, rumored to be Michael Jordan's all-time favorite colorway, holds a special place in the sneaker game. These kicks boast a legacy that's just as iconic as the Banned and Chicago 1s, if not more. Nevertheless, the only snapshot of Jordan rocking those "Royal" 1s on the court was while defending on the deck of a cruise ship. 
So, if you can't get enough of this mind-melting 'Reimagined Jordans", check out the legendary Jordan 4 Bred Reimagined scheduled for 2024!
Jordan 1 Royal Reimagined Fit for a Sneaker King!
Now let's see what sets the Air Jordan 1 Royal Reimagined apart. You know those signature "Royal Blue" accents that we all love? They're still here, gracing the lower heel overlays, collars, Swooshes, and toe boxes. However, there's a twist. A sleek, all-suede construction, with suede panels taking over the entire sneaker. It's a textured twist that's bound to turn heads.
Moreover, the tongues stay true to their roots with durable nylon material, and they're proudly adorned with the Nike Air branding. Of course, you can count on the customary white midsoles and blue treading to complete the look.
So, whether you're a die-hard classic Jordans fan or just someone looking to make a stylish statement, these kicks are a must-have.
Don't miss out on this epic release of the Jordan 1 Royal Reimagined on November 4th. Grab your pair for $180 and let your feet do the talking!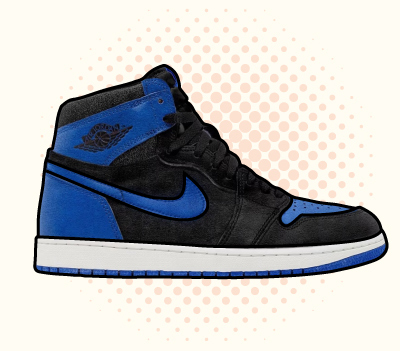 Unlocking the W: How to Score these Royal 1s for Retail
Well, let's get to the part that's got everyone's heart racing! How to score the Jordan 1 Royal Reimagined for retail? So here's the reason you WANT to cop them at retail in the first place. The 1985 edition of these kicks is currently scoring a jaw-dropping $16k on StockX! Yes, you read that right, and not only that but the 2017 edition is going for an average of $393 on the aftermarket!
So, here's the deal, the Jordan 1 Royal Imagined will probably drop on SNKRS. Meaning snatching a pair will be pretty tricky. However, if you got TSB, one of the best Nike bots, your odds will definitely increase! For only $300 a year, you can cop them and any other exclusive release in bulk. From 50+ regions worldwide. It's a golden ticket to a fruitful reselling business, and only an absolute fool would pass up this chance.
Last but certainly not least, don't forget to buy the best proxies and Nike accounts to seal the deal successfully. Good luck fam!