Miami Hurricanes Nike Dunks: A Storm Is Brewin'!
From basketball kicks to skateboarding and lifestyle staples, Nike Dunks sure knew how to break into the sneaker world… And stay there forever! They're the cool shit everyone needs in their wardrobe. And the newest of 'em dunks are dropping soon in the form of Miami Hurricanes Nike. What's more interesting is that the Swoosh is getting out of the comfort zone of sponsored schools all right, as it's now taking inspo from Adidas-sponsored schools… 
Moving on, blending and creating new colorways became a Nike habit. To the extent that the word infinite will soon fit the kicks' description. And to say that the Swoosh plays a huge role in sneakerheads and resellers' lives would be putting it mildly. Besides, after shit went down between Adidas and Yeezy, Nike became their safe haven. The solid ground sneaker fam can stand on. 
Miami Hurricanes Nike: All You Need To Know
College-themed Nike Kicks seem to be claiming the market these days. Miami Hurricanes Nike Dunks being the latest. And that shit's lookin' epic! The kicks feature a leather orange base complementing the laces and nylon tongues. Overlaying the orange is a dark green leather that engulfs the tongue tags and linings. You can find orange NIKE brands on both heels. 
We ain't done yet fam, 'cause today ain't only about hurricanes. Arizona Dunk is droppin' same time the Miami Dunks are. Double the kicks, double the copping chances. So, if the previous Dunks didn't appeal to you much, we got another Dunk for you to flex. Classic burgundy and gold hues celebrate the 50th anniversary of Arizona State University Athletics. Look at the open-mindedness of the Swoosh. Paying homage to universities sponsored by the Three Stripes just hits the jackpot real hard.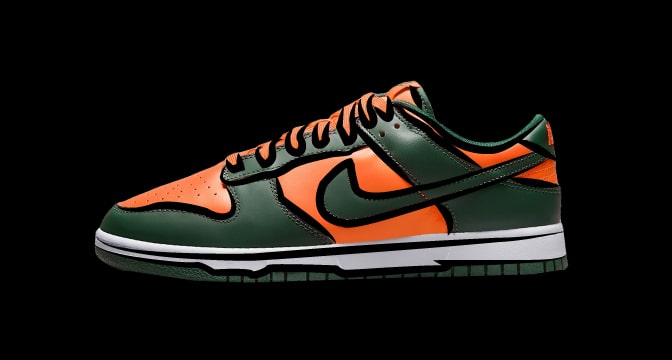 Having the same color distribution as the Hurricanes, the Arizona Dunk features a burgundy-maroon base, while gold takes over the overlays from the toe, swoosh, and tongue to the heel. Colorless midsoles sit atop gold rubber outsoles, finishing up the look.
Release Deets
Miami Hurricanes Nike and Arizona Dunk are dropping on November 7, 2022, for $110. Resale value ain't sky-high, reaching an average of $138. BUT it's still higher than their retail price. So, if you manage to cop multiples, flipping them can be worth the hassle. 'cause, you know, lil cash here and there does pile up, and you find yourself with hundreds, and even thousands, eventually. At the end of the day, if flipping these kicks doesn't appeal to you much, flexin' them will definitely do. However, make sure how Dunks fit first if you wanna rock 'em right!
How to catch 'em Miami Hurricanes Nike and Arizona Dunk?
For starters, Miami Hurricanes Nike and Arizona Dunk will drop on Nike's official website. This means that taking the L is so very possible. And to avoid such a shitty problem, you gotta prepare your copping war tools. Most importantly, a good Nike bot such as TSB! But you must know that a good bot with shitty proxies, accounts and servers ain't it. You should hook up the right proxies to your sneaker bot for higher chances at copping the shit outta the kicks you want. 
Why TSB? Well, it's the dopest shittiest bot out there. This bot literally supports over 40 regions worldwide. And unlike many good bots, it's actually in stock and you can have it for only $300/year. 
So, as the Swoosh being generous with 'em releases, you can also check the upcoming Why So Sad Dunks. Good Luck!