Why So Sad Dunks… Dressin' Up Is Support Enough!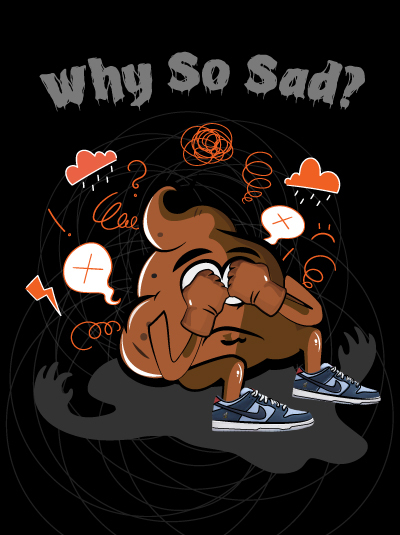 Dressin' up. Takin' care of yourself. And livin' the shit outta life is how you support yourself… and others! Here's all you need to know about Why So Sad Dunks.
An apple a day keeps the doctor away. And keepin' away from doctors ain't always about physical health. Mental health plays a great role in people's lives and their physical health. That's exactly what them movements are all about. And trust Nike to take part in helping the community and bless us with great collabs, all at the same time! No idea what's goin' on here? Well, the Swoosh is partnering up with the Scottish pro skater, John Rattray, on the release of the Why So Sad Dunks. Read on to know all of the deets! Meanwhile, in case you're looking for Nike Dunk drops, you can always check the Red Panda Dunks. And to keep tabs on both Jordan and Nike news, check our blog here! 
Why So Sad? A Lil History Lesson
Why So Sad? is a campaign, established by John Rattray with the main purpose of raising awareness for mental health and taking suicide prevention measures specifically in the skate community. Rattray's goal in initiating such a campaign is to encourage open conversations about mental well-being through skating means. 
They say experience is the father of wisdom. And that's exactly the situation here. Rattray himself experienced depression after he lost his sister to suicide back in 2011. So, to say he knows what depression feels like would be an understatement. Accordingly, in 2017 he started Why So Sad? Which stresses the importance of physical activity in improving mental health symptoms, especially depression. This means that any type of physical activity is a vital coping mechanism. 
Why So Sad Dunks? Flex 'em Blues And Get Movin'
The upcoming Why So Sad Dunks are like that simple painting that you overlook at first. But after lil inspection, it becomes your utter favorite. And that's all thanks to 'em lil details. The kicks feature a light blue leather base overlaid with dark blue suede. Also, you'd think that you've unwrapped your gift by opening the shoe box. But you're in for a surprise because y'all got another unwrapping to do! The suede overlays already mentioned are removable! And underneath you can find the most vibrant yellow color. Speak of innovation!
There's also a skateboarding chicken motif embroidered on the lateral heel. And instead of the usual NIKE branding on the heel, you'll find a red question mark. White midsoles sit on top of translucent outsoles. Finally, you can find Why So Sad? brandings on the inner tongues.
When, How, And At What Price?
So here's what we know about this release. Why So Sad Dunks are dropping on November 4, 2022, and will retail for $120. Are they worth a cop? Well, they totally are worth a cop… and a flex. Shades of blues never looked more cool. They're also reselling for $245 on average! And we wouldn't be surprised if that value increased. I mean, valuable kicks with both style and a cause don't die out that easily. 
For the time being, if y'all been tryna buy Nike kicks and Jordans with no such luck, then you certainly don't know of the existence of sneaker bots. Nike SNKRS bots to be more specific. 'Cause as you may know, copping manually is a lost cause, especially if you're aiming to score multiples. That's why dope bots like TSB exist. TSB can help make your life easier by givin' you better chances at copping the kicks you want.