5 Weirdest Sneakers Of All Time!
They say everyone views beauty differently. But when it comes to the fashion industry, sometimes there literally is no beauty to see in a particular product. Sometimes shit's so weird, you start questioning designers' sanity. And one industry that pushes boundaries beyond limits is the sneaker industry. You get dope drops one moment, and downright the weirdest sneakers the next! When we say weird, we mean way beyond MSCHF's bizarreness level. So, brace yourselves, peeps, because today we'll be exploring the weirdest sneakers the industry has ever introduced! And let's just say, the following list ain't for the faint-hearted one bit!
What Are The Weirdest Sneakers To Ever Drop? 
From muscle toning and cowboys to literal human flesh, the weirdest sneakers got even weirder inspirations. So, let's check'em out together, shall we?  
Animatronic Flesh Shoe by Adam Brandejs
Not only is Adam Brandejs' shoe the weirdest shoe, but it's the most horrific one out there! The Canadian artist woke up one day and decided to raise awareness of the footwear production process by creating flesh-like shoes! Which sheds light on sweatshops and the use of animal skins case. Mind you, the Swoosh has long since stopped using animal skin in its manufacturing process. 
So, these kicks dropped in 2004, and they were created from latex, which represented real human skin. And this "skin" is stapled together by pins, with actual human hair (the artist's friend's hair) attached for that extra effect. But what really does it for us (which is way worse than the hair) is the gear motor inserted in the shoe. Why is it there you ask? Well, to make the shoe twitch and pulsate, as if it was alive, of course! Now, we can go on for days describing these kicks, but for your own sanity, it's better we stop here!
Adidas x Jeremy Scott Cowboy Boots
The Moschino creative designer, Jeremy Scott, once came up with a creative idea that is too creative, and not for his own good! As part of his collaboration with Adidas, Scott dropped the Mega Softcell Cowboy Boot back in 2012. And let's just say, many hoped he stopped at them being simple Cowboy boots, and not Mega Softcell on the bottom, but Cowboy boots from the shoe lining to the top. Because that thing looks horrendous as heck! 
Adidas x Kobe 2
Did y'all know, in 2001, Kobe Bryant left Adidas for Nike shortly after the drop of the Kobe Two? And if y'all take a look at them weird sneakers, there's a great possibility you might think these kicks are one of the reasons Kobe called things off with Adidas. Well, at least some salty sneakerheads shared this thought back then. Matter of fact, some say, even Kobe himself despised this silhouette. And in all honesty, these bulky shoes are indeed ugly beyond limits!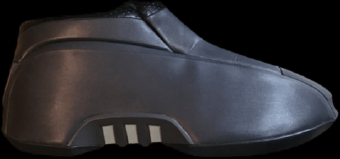 Golden Goose Distressed Superstar 
Why would someone buy a horrifically damaged shoe and call it fashion is way beyond us! Now, Golden Goose Distressed Superstar might not be the weirdest sneaker on the list, but their $585 price tag, makes us rethink our judgment. Because, why? Suede and leather covered in stains, torn-up shoelaces, and scratches all over. That's basically what this pair is all about. We definitely get vintage being part of fashion, but when so-called fashion becomes trashy, sneakerheads draw the line. 
Jump 99 Plyometric Strength Training Shoes
Okay, these spaceships of shoes look like they belong to another planet. However, the main purpose behind the creation of these kicks doesn't solely depend on the artistic side or whatever. They were mainly designed with the promise of offering muscle toning and bulging calf muscles. But looks like things didn't go according to plan, as people reported minimal improvement. Add to the fact that, if worn without professional guidance, y'all might risk a potential muscle injury. And no one is in for THAT!
If Not Weird Kicks, Then What? 
Spending hundreds of dollars on kicks that get trash-talked more than regularly definitely ain't the way to go fam! However, you gotta know that the footwear industry ain't only about bizarre and "creative" designs. The opposite is true. Sneakerheads get to enjoy new hyped releases on daily basis. And this year, the sneaker giants been taking over in the dopeness field! Whether you're in for the flip or the flex, Nike and Jordan Brand got ya! In fact, there's a whole Jordan Summer lineup for you to pick from!
But you gotta know that catching such kicks doesn't come as easy as shopping in a good ol' Nike store down your street. Because the kicks we're talking about here are exclusive ones and require you to put in lil extra effort to catch 'em. So, first you need to invest in a great sneaker bot. But if you're only aiming for Nike and Jordans, getting yourself a Nike bot is the way to go! It's also worth noting that, a good bot is only good when you get to pair it with great proxies and Nike accounts.