Red Dunks Strike Again With A Trippy Magic Mushroom Nike SB Dunk!
If Nike is anything, it's totally not subtle! From their Skunk Dunk to their 4/20 Dunks 10 years later, Nike Dunks are on a trippy journey! And if the purples and greens weren't enough, the SB division is dropping us headfirst in the world of fungi. But not any fungi, the mighty magic mushrooms! But besides being the highest in the room, why should you get the new red Dunks? We'll tell you all the deets and why you'll need to cop that pair with the shittiest bot in the game! Which, by the way, copped 4,500+ pairs of Travis Scott's AJ6 British Khaki!
🔄 RANDOM RT WINS TSB 💩

⚠ 4500+ TRAVIS SCOTT AJ6 CHECKOUTS 👟 👟 👟

Pooping frenzy today with one of the biggest releases of the season yet!

TS6s POOPED SUCCESSFULLY ON ALL REGIONS 💪🏾 💪🏾

💰💰$2,000,000+ RESELLING PROFIT 💰 💰 pic.twitter.com/hMolRsXr7B

— The Shit Bot (@The_Shit_Bot) April 30, 2021
Red Dunks Are Always Hot
And we mean that in the best way possible. Remember all the red Dunks (or Dunks with red in them) that we totally simped over? There was Nike Dunk UNLV, the Off-White Red Dunks, and many others! But our favorite mix of pink and red are Strangelove's Nike SB Dunks of Valentine '20. And let's not forget 2020's Framework Habibi Dunks! These are all pairs that made you lots of cash if you were lucky enough to cop that shit! Now, enough with all the crap of the past, and let's look at the future of red Dunks. That's where Stingwater's Magic Mushroom Dunks are.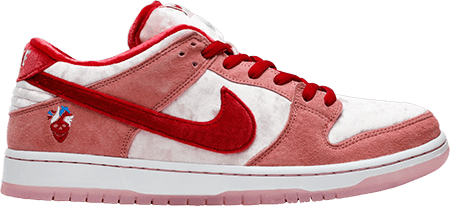 What's Stingwater?
Honestly? We barely know! It's a pretty cool skate shop with child-like aesthetics and typos, and we're here for it! According to the brand, Stingwater is a very speshal water for humans. It helps them groe… We'll just leave it at that. So one of their famous designs is a red mushroom, which explains the red Dunks design. Let's check them out now with all the release deets!
Stingwater Nike SB Dunk Magic Mushroom: Elite Red Dunks!
The new Stingwater Dunks are called Magic Mushroom for pretty obvious reasons. The upper comes in a red leather base with overlays that look like the top of red mushrooms. On the side, the collab rocks a jewel swoosh instead of the usual one! But that ain't all, because the "Stingwater" embroidery comes in scrambled letters.
Now let's get into more deets fam! The insole is green and says "Please don't step on me, I'm trying to GROE". Kinda ironic when you think about it huh? On the flip side, the translucent outsole features on each side "Plant emoji" and "with eyes". Finally, the tongue has a hidden stash pocket with the Stingwater signature mushroom! Well, if you know, you know y'all.
Release Deets
So, Stingwater's red Dunks will drop on May 10, 2021, and will retail for $125. That's a bit higher than your usual Dunks, but they're totally worth it! The Magic Mushrooms today resell for $770 on average. But if you get lucky with the sizes, you might scoop in a whopping $1,500 fam! So make sure you get your copy of the shittiest bot in the game before you got for the cop. And if you're looking for another Dunk to cop, check these colorful babies out!