Frame Skate x Nike SB Dunk Habibi: Love on the Side of Hummus
Anybody else totally dig them Middle Eastern vibes?! We're getting hungry just thinking about the food, fam. It's got sass and zest and we're looking to see that spice on the upcoming Frame Skate x Nike release: Nike SB Dunk Habibi. Which is a term of endearment that literally means "my love" but is more commonly used as "my dear" between friends and family. The more you know, right?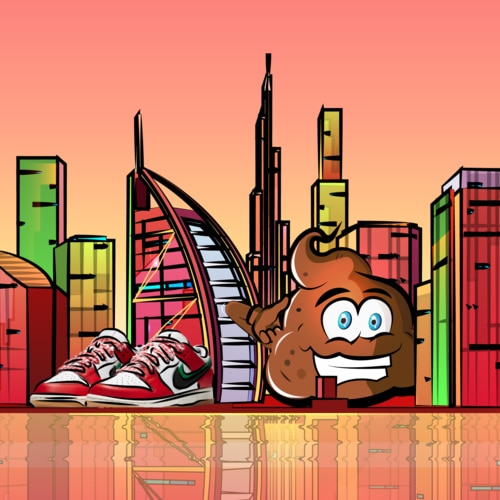 Are You an Official Shithead?!
We're lighting up fireworks for our new members who caught the TSB restock on Black Friday 2020! You are in for one hell of a treat this month copping Holiday Nikes and Jordans. After handing our new members their official TSB copies, we hyped up their first copping experience with the Jordan 1 Black Gold. By scoring our users $430,000 in profit with roughly 5K checkouts. December's now at the door, so brace yourselves for the big bucks, Nike fam. The Shit Bot is the only working Nike bot you'll want by your side when the Holidays start a-raining.

Frame Skate, My Dear!
Frame Skate is a contemporary retailer based in Dubai with a cross-cultural palate. It merges between Eastern and Western cultures with distinctive apparel, footwear, and accessories. The upcoming Nike SB Dunk Habibi is Frame's first collaboration with Nike SB. As stated on Frame's official site, the sneaker collaboration goes by "Habibi". As it represents the core value of love in our coexistence as humans. The sneaker's name goes on to have a more local relationship with its founding country Dubai and its love for skateboarding. 
To put its appreciation for the Middle East into action, The Heart of the City online game raffle was created. It closed only yesterday on the 30th of November and allowed UAE and select Arab regions only to play for a Nike SB Dunk Habibi pair. After paying a fee, registering, and doing their damn best, participants will have to wait till the 2nd and 3rd of December for the winning results! 
Frame Skate x Nike SB Dunk Habibi
You can count on Nike SB Dunk, the head of all skate shoes, to tap into different cultures and present us with interesting mashups. This Middle Eastern-inspired sneaker is a beacon of love, as its name and colorway suggest. It also ties this love for humanity with the UAE flag colors. This inspires us to think of Dubai as the multicultural hub that it is. 
The Nike SB Dunk Habibi is expected to release on Nike and select skate shops sometime between December 2nd and 5th in the $110-$120 range. It is valued on the aftermarket for $750 on average, which makes it quite the catch! It's always lucky to cop a first-time collaboration and stick it to the hype from the start. We don't get as many fascinating first-timers as we'd like. The J Balvin Jordan 1 collab is definitely one of 'em!