Jordan 7 Cardinal: Bringin' Up The Past!
Nike and Jordan Brand never run outta celebrations. They be livin' that wild lifestyle as they got a full party schedule runnin' round the clock. But to be fair, this time of the year is just always busy. From preparing for the spooky season and the Holidays to celebrating anniversaries and collabs. One of those collabs is Nike x Doernbecher. So, this being said, Jordan Brand is giving an early Holiday gift in the form of Jordan 7 Cardinal! And yes, you heard that right. They're droppin' for the fourth time in 11 long years! 
Jordan 7 Cardinal: Lowkey Eye-Poppin'
You know that time when you decide to keep your outfit lowkey no-frills, putting in minimal effort, and a moment later it becomes the dopest 'fit out there? This is exactly the case with Jordan 7s. It's like Tinker Hatfield discovered that sometimes all you need is to keep it simple. And keepin' it simple he did. Next thing you know the Jordan 7 becomes one of the most iconic Jordan silhouettes ever!
It was the first Air Jordan with no Nike branding. But luckily for us, this ain't some Yeezy x Adidas relationship dynamic. It wasn't a sign of a crumbling partnership. Nike's not a controlling partner. The swoosh has no problem in giving its partner the power they deserve to thrive. AJ7s are also the first Jordans to receive a prominent Huarache design. 
Moving on to the upcoming Jordan 7 Cardinal, it'll be receiving the same retro treatment the 2006's and 2011's received. Which are the exact replicas of the 1992 originals. The pair features White leather uppers with Black and Cardinal Red detailing the masterpiece. You can also find golden embroidery on the Jumpman logo and the heel tab.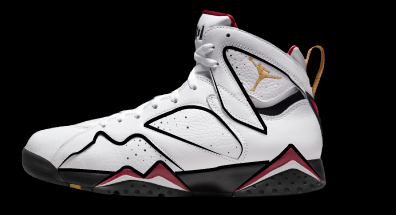 Release Deets
Jordan 7 Cardinal will be hittin' em shelves on December 17, 2022. They'll also retail for $210. Now, for the real talk. These kicks are worth $284 on average on the aftermarket. It may not seem like a lot now. But if you manage to get your hands on several pairs, reselling them would be worth the investment. Keep in mind not all Jordan sizes sell the same way. Some are worth a heck lot more than others. So while you're copping in mass, be aware of the sizes you're fetching. Size does matter in the resale market.
How To Cop Jordan 7 Cardinal For Retail? 
Who wouldn't like a pair of Jordan 7 Cardinal? They're iconic, they're valuable on the aftermarket, and they look like the industry's royalty! However, in order to get ahold of 'em pairs, you gotta put your shit together before you start botting. 'Cause you'll definitely need to focus while selecting your copping tools.
But don't worry, you don't have to focus for long after you choose a dope Nike bot, like TSB. It does most of the work for you. It can select your shoes, fetch your size and check out in seconds. Using TSB you can also cop from 50 regions globally! And for $300/ year you're looking at one of the most profitable investments you can ever land!
However you need the right setup to go with it. The right setup is the proper proxies, Nike accounts, and kick-ass server. Although with all this shit, there ain't any guaranteed Ws, your chances at buying ANY NIKE SNEAKERS, will definitely skyrocket!
More on Jordans? You can check out the upcoming Jordan 1 Gorge Green. May the odds be with you!