Jordan 1 Black White 2024 Adopting Reverse Panda Craze Proudly
2024 is on the horizon, and Nike's cooking up some BIG plans. They're bringing back the classics, and you won't believe the fresh colorways they've got in store. Although we've recently seen a killer lineup of Valentine's Day Nike kicks, the real excitement lies in reviving those old favorites! This time, it's the '85 retros stealing the spotlight as Jordan Brand will be dropping the Jordan 1 Black White 2024. And let's just say, we're counting down the days from now! Keep reading for the juicy deets!
Jordan 1 Black White 2024: Blending RE2PECT Kicks Swag!
Let's talk Jordan 1s – they're all about classic harmony and an elegantly edgy style.
And basically, the Jordan 1 Black White 2024 isn't trying to reinvent the wheel. Instead, it features a traditional leather upper and a semi-platformed rubber sole. Plus, it's bringing back the reverse Panda's trend & 'Bred' color scheme! The Swoosh, heel counter, ankle flaps, and toe box are shining in crisp white! Perfectly matching the midsole and Nike Air branding on the tongue. Meanwhile, black takes over the Wings logo, outsole, and everything in between. The cool part? This black and white Jordan 1 gives off that 'RE2PECT' vibe but without the motivational words.
So, if you're feeling like you were born in the wrong era, these kicks are the perfect match for your retro style. Good news is that they come in sizes for men, grade school, preschool, and even toddlers, so you and your crew can rock a matching look.
Now, here's the deal – iconic kicks like these need some proper storage to keep them looking fresh and clean. So, check out the best storage hacks to keep your valuable sneakers in top shape HERE.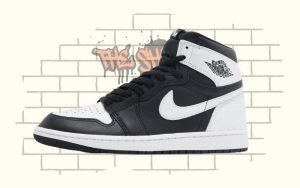 OG Jordan 1s: The Hottest Picks to Boost Your Resale Game
So, the Jordan 1 Black white will drop on February 24th. So, it will be part of the 2024 Spring Jordan lineup. You can snag a pair for the usual $180, via SNKRS. 
Let us tell you, these Jordan 1s are worth every penny, and we ain't only talking kicks-wise. They're a piece of history and a potential profit goldmine if you're thinking about flipping them. Which you should! Because if you take a look at how the 'RE2PECT' Jordan 1s are doing on the resale market– you're gonna find out that they're currently worth a cool $409! That's double the retail price. Imagine the cash you could be making by flipping multiple pairs!
How to Cop the Jordan 1 Black White 2024 with Zero Hustle?
If you're deep into the sneaker game, you know how tricky it can be to cop Jordan 1s. Everyone's out there going crazy to catch a pair. So, you gotta be prepared with a rock-solid sneaker-copping strategy. And that's where a Nike SNKRS bot comes in clutch. We're talking about TSB – one of the top dogs in the Nike bot game, with a killer track record and a super wallet-friendly subscription price. So, make sure to check it out yourself to get your copy today!