Best Nike Collabs: A List of the Coolest Kicks of All Time!
Hey hey shitfam! Today, we're lining up some of the hottest collabs that we all dream of owning at the same time. Y'know, unless you're mad lucky or rich, at least one of these kicks slipped from you. Anyway, we're not here to make you feel bad, because we were in your shoes too. We just wanna take a trip in time and check out the best Nike collabs. Put them seatbelts on, because it's gonna be one heck of a ride! Or maybe put on a pair of Jordan 5 Racer Blue, that'll totally get you on the right track.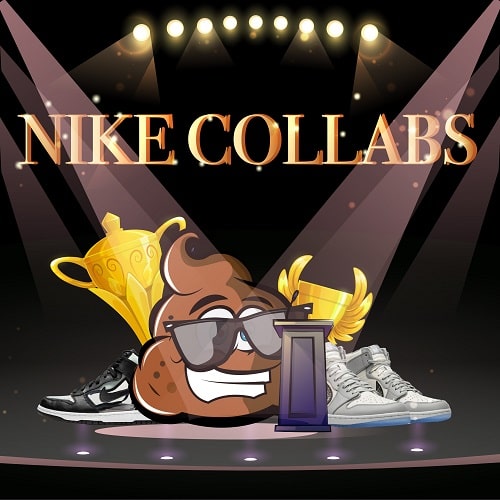 Top 10 Nike Collabs Ever
Mind you, we're gonna be a bit subjective, just like every other sneaker ranking! So go in with an open mind cause you may not find your favorite pair here. But if you agree with this list, or have more than a couple of these, then you're a certified cook! Or you have a really good Nike bot to boost your cooking game. Cause we all know how much SNKRS drops can drop the morale. 
Oh, some more disclaimers to be on the same page. The top 10 Nike collabs aren't in order, so don't sweat it if your favorite is at the end! The kicks are all dear to us and we love and want them equally, periodt. Also, we ain't mentioning Michael Jordan because Jordan is a brand of its own!
Nike x Comme Des Garçons
One of the earliest collaborators with the Swoosh! Junya Watanabe, or CDG generally, has been in the sneaker game with Nike since 1999. That's almost 23 years, and still counting. We got so many drops, some are underrated, and some are very hype! What's pretty obvious is that the two brands are showing no signs of stopping anytime soon. And honestly, do we want them to? Our favorite pair is naturally the funky CDG Nike Dunk High Clear! We totally love showing off our crazy sock game with a hot pair of kicks.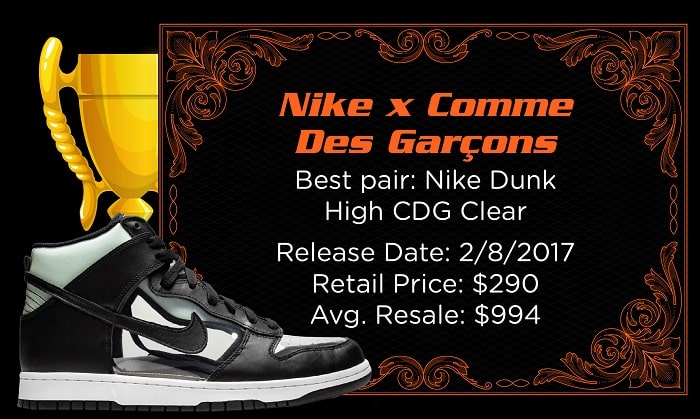 Nike x Off-White
A collaboration that doesn't need any introduction anymore. Virgil Abloh brought a new flair to the sneaker industry! His kicks and their exclusivity made us feel like they're some high-end shit. So, from the Ten collection to the latest collabs before his death, Abloh aced every Nike Off-White drop! But if you ask us what our personal Nike Off-White grail is, it's totally the Chicago Jordan 1 Off-White.
Nike x Aleali May
Nike took so many stands towards social issues throughout the year. And one of them is the female representation in the sneaker industry. So we got kicks from the ladies to the ladies! Although some of the pairs are available for men, it's still a great step to include women. And Aleali May makes sure every pair comes with a tribute to women in her life, and in general! That's very important since she's one of the few famous women who got to the Nike design tables. Naturally, the pair we'd put on top is her take on the classic Jordan 1 Shadow. Y'all know we're suckers for classics!
Nike x Kanye West
You didn't think that we'd go through the best Nike collabs and not mention Kanye "Ye" West… We may be eccentric, but we ain't out of our mind! He might not be everyone's favorite, but we can't deny his huuuuge impact on the sneaker industry. Ye is a household name for every sneakerhead, whether they're fans or not. Of course, the Air Yeezys are grails to so many people since the contract was cut short in 2013. But we can all agree that the pair with the most impact is the Air Yeezy 2 Red October. You know, it's not about the look, but about the whole drama around it! And we love us some sneaker tea fam.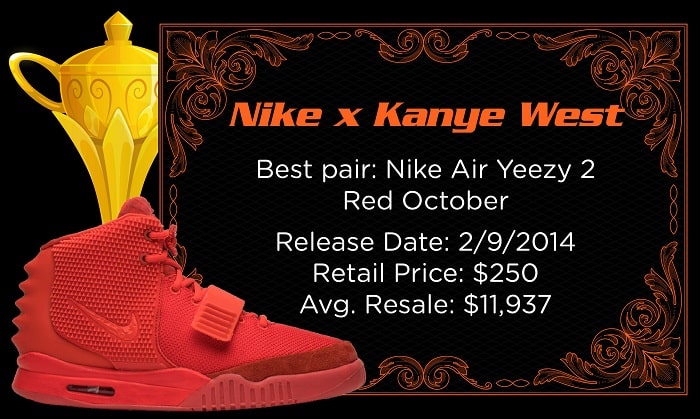 Nike x Supreme
Another classic Nike partnership is with Supreme, aka the streetwear giant! If you were a part of the industry back in the early 2000s, you'd remember the pain. Waiting for days on end to buy the season's latest items, including Nike kicks. Shit was real back then before it all went online and the fight became virtual! Anyway, if we had to pick, our favorite pair is hands down the Supreme Black Cement Nike SB Dunk!
Nike x Sacai
Another designer who represents the ladies the best way possible also killed her collabs with Nike. Sacai's Chitose Abe made sure her designs reached every sneakerhead's heart! The mix-and-matchy feeling that comes with the kicks is just part of their appeal. And y'all know how much we love us an exciting pair of kicks. Anyway, the earlier pairs are awesome, but our favorite is definitely the black and white Nike Sacai Vaporwaffle!
Nike x Kaws
This collab didn't make it on this list because of the quantity. It made it because the awesome kicks we got made it to sneaker history! Kaws is a pretty awesome artist, and his name is closely connected to the streetwear industry. So making a pair of sneakers is a great part of his legacy, and he didn't disappoint! The Nike Kaws Jordan 4 Grey is a grail to so so many people, and we'd bet on it!
Nike x Dior
In a very surprising step, Nike collaborated with one of the most famous fashion houses in the world: Dior. Along with a cool apparel collection, we got Jordan 1s in high and low cuts! Of course, getting the extremely rare sneakers was a super complex mission. And we ain't even talkin' about the whoppin' retail yet! Anyway, to put it lightly, those who actually got the kicks made a little fortune in one move.
Nike x Travis Scott
If hype was a person, it would be Travis Scott. Although the disastrous Atroworld 2021 events put a black spot on his future moves, we can't deny his effect. Whatever he dropped, people bought! From fans to sneakerheads, everyone wanted in on that shit. Now we don't know what 2022 has in store, but we're sure Scott won't stay away for too long. In the meantime, we'll stick to having the Travis Scott Nike SB Dunk as our favorite pair… but who knows?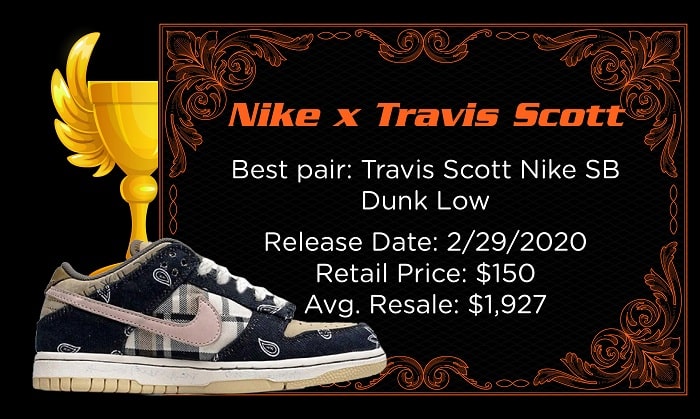 Nike x Concepts
Last, but totally not least, we got Concepts store. The brand that came from the heart of Boston reached worldwide fame. The first thing that sneakerheads would remember about it, is their Lobster Dunk! From the classic red to the rare blue, the releases made it to sneaker history. The partnership is still ongoing with the latest being the cool Turdunken! But we love us some classics, and it's the Red Lobster SB Dunk for us, thank you very much.
How to Get Any Cool Upcoming Nike Releases?
There's no secret sauce to copping the best Nike collabs and kicks. It's just about choosing the right bot for you and hooking it up with good proxies. There's also some extra stuff you need, like Nike accounts, especially if you wanna increase your chances at Ws. And being connected to the sneaker world is key, so being part of a cook group is the shit. From news to sweet deals, you can find everything you need! Good luck fam!