Nike ISPA Is-Packed With $500 Worth of Techs & Goodies!
This is the first Nike on our latest New Nike Sneakers list to leave us Jordan-less. Sometimes it's healthy to draw clinginess boundaries between yourself and your favorite brand. Nike is one part Jordan after all and it's always mixing and matching and creating! So in order to step out from our Jo-mfort zone, we're going to take the time to appreciate the efforts and design miracles put into this Nike ISPA. It doesn't mean "Improvise, Scavenge, Protect, Adapt" for no-show habits. This sneaker is present! It's got technologies that will not fail your monkey genes. And the colorway is pretty much the star of the moment. The Shit Bot is giving this Nike the stink eye, which in our case, is right on the money! All-region Nikes will be swallowed whole by our bot. No different from the Jordan 1 Grey Smoke. It's a shitty thing to trust, but we've got results.

🔁RT-1 Random TSB Winner

Dominating Nike Releases WORLDWIDE!

440+ AJ1 "Smoke Grey" Checkouts from:
🇺🇸 🇨🇦 🇬🇧 🇳🇱 🇪🇸 🇳🇴 🇩🇪 🇨🇿 🇫🇷 🇵🇱 🇸🇬 🇹🇭🇲🇾🇹🇼🇻🇳 🇦🇺 pic.twitter.com/rOaeVYY7y8

— The Shit Bot (@The_Shit_Bot) July 11, 2020
Nike ISPA: More Sail, Road Warrior?
What is up with the Sail colorway? Must be the color of the moment else top brands and artists wouldn't sleep on it for so long. The Off-White Jordan 4 is dropping in full sail mode on July 25. The Jordan Quai 54 already did on the fourth of July. But it was the Nike FoG 1 that turned our attention to the colorway early on this year. Pastels are crowd-approved because however drastically you mix and match, it holds your shit together. We ain't here to talk about Jordans, but remember Milan? All the sexes wanted a piece of that drop because it was just that classy. And neutral. Kind of like a crazy outfit's palette cleanser.
So this Nike ISPA takes on the trendy colorway. And incorporates four different Nike technologies. You know, to help you do the four things the model's acronym stands for. Because that's what's keeping you from conquering the hillside: the wrong shoes…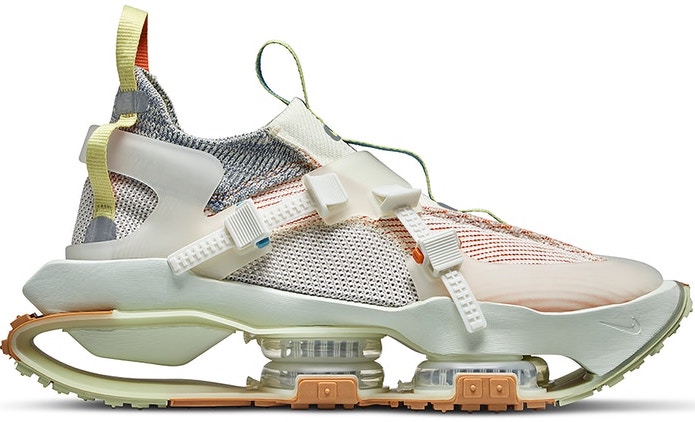 Worth $500?!
It's got Air Max, Nike Shox, and Vapormax features. With a double power Zoom forefoot. So, motion wise, it's packing. It's got you covered from any angle at any speed. Probably why Nike seems to be basing most of its sustainability cause on the Space Hippie Pack. That space-themed alien-like exterior made from recycled materials seems to get fans going. It's like, protect the planet without looking like you're from it. Post-post-modern vibes everywhere, right? 
The Nike ISPA Road Warrior will drop on July 17 for $500. Its value on GOAT has reached $2,000. So, copping a single pair might just be your sneaker legacy. Keep posted on our blog for more sneaker news worth your bot and time.