Nike Dunk Waffle: Ready For A Delicious Slice of Nike's Past?
Today, we're diving into the world of food-themed Dunks – a dish no sneakerhead can afford to skip! The Nike dunk waffle is the new real deal holding the glory of Nike's roots. From making waves on the resale scene in 2016 to smashing auction records in 2019, this theme is more than just a mouth-watering inspiration. So, let's dive into the deets of this must-have Nike release and drizzle some syrup appeal on our kick-game!
Nike Iconic Waffle Sole: A Lip-Smacking Journey into Nike's Archives
So, the term 'Waffle' in Nike's history goes back to a humble kitchen waffle iron, sparking the brand's success. Picture this: Bill Bowerman, Nike's co-founder, brainstorming over breakfast in '71. Lightbulb moment – waffle iron grooves for a faster, lighter running shoe. Four decades later, those iconic Waffle Trainers continue to fuel Nike's global dominance in the sneaker game.
But wait, there's more! In 2019, heads turned when an original pair of Nike Waffle Racing Flat "Nike moon shoe 1972″ smashed auction records at $437,500! Handcrafted by Nike OG Geoff Hollister for the '72 Olympic Trials, these kicks are legendary.
Now, get ready for a flavor explosion – the new Nike Waffle Dunks is adding a savory twist to the '85 classic.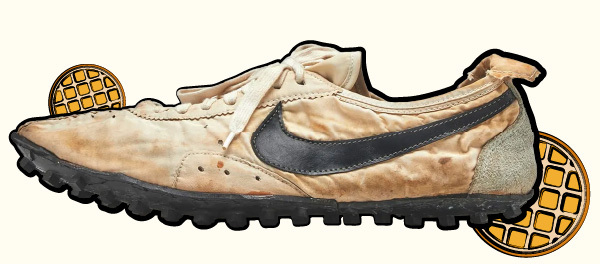 Nike Dunk Waffle: As Crisp As Your Fav Morning Treat
So, the Nike waffle dunks feature a warm color scheme straight outta the breakfast nook! It comes in a golden-brown suede upper. The midfoot's got that intricate waffle-iron detailing, stretching all the way to the tongue and insoles with a gridded print. Cream laces, Swoosh overlays, and a sole unit so syrupy in gum and tan.
Snaggin' Waffle Dunks: The Easy-Peasy Release Day Drill!
As for the release deets, the Nike Dunk Waffle doesn't have a date yet. However, it's stepping into the spotlight in the coming months, mainly Spring 2024, for a cool $125. And you bet your sneaker stash, the resale game's gonna go bananas – we're talking crazy numbers. The 2016 Waffle Dunk High is ranging from $400 to a whopping $5000 on the aftermarket. So, if you're hustlin' in that resale game, these dunk lows might score the same and maybe higher.
Now, when a release is hotter than hot, you know you gotta cop it, no questions asked. The key to scoring big? It's all about having the slickest SNKRS bots in the game. But hold up, you can't forget the essentials – we're talking sneaker proxies, accounts, and servers.  So, what are you waiting for? It's time to kick off a new journey, stack those Ws, and level up your sneaker game.