Touchdowns? Kyler Murray Dunk Be 1 Of One' Soars To The Hoop!
Hey there, shit fam and gridiron gladiators! Guess what? In this slammin' year of 2023, we've experienced a shower of incredibly cool Nike Dunks collabs. And fam, they're off the charts, right? But hold your kicks, 'cause Nike's not done yet. They're closing out the year with a bang, dropping the mic with the ultra-fresh Kyler Murray Dunk "Be 1 Of One". An NFL superstar is on the verge of receiving a personalized line of Nike Dunks. This impression holds particularly true as American Football stands among the most widely followed spectator sports across the globe! Boasting an impressive fan base of approximately 400 million worldwide.
Well, this new Dunk Low, is like a piece of a mega-amazing collection that shouts out 'Be your one-of-a-kind self! Sneaker culture craves those 1-of-1 kicks, and while this Dunk's got that vibe, it's not about the shoe, it's about YOU.
Hold onto your helmets and snapbacks, 'cause this release ain't just gonna shake up NFL fans; it's sending shockwaves through the entire sneaker world. So, let's dig into the juicy deets and see what makes these kicks the MVP of the holiday season.
P.S. If you want to elevate your holiday wishlist with more coveted kicks, be sure to check out the upcoming Jordan 1 Satin Bred this season!

Kyler Murray: NFL's Star Quarterback and Sneaker Icon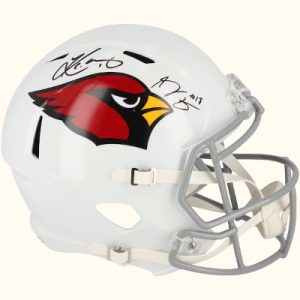 Now, for those of you living under a rock, let me spill some tea about Kyler Murray. This dude is not just any quarterback in the National Football League in the US. Nah-uh, he's like top-10 material, and in 2022, he was slinging touchdowns like they were freebies at a carnival. 
And since he's known for his agility on the field and his style off it, 
In 2022 Nike brought the two together with a Nike Vapor Edge Pro 360 2 cleats inspired by Murray's draft day suit. Not only that, but the black-and-yellow cleats Nike released exclusively for Murray, are also a one-of-one repurposed casual shoe. So the buzz is real fam, 'cause he's dropping his mind-bending dunks. Ready to "Be 1 Of One"?
Kyler Murray Dunk: A Design that Ignites Desire
Renowned for its simplicity and versatility, this Dunk Low truly represents a top-tier design. The colorway's design and construction are distinct from your typical GR, so it's not your everyday release!
Kyler Murray Dunk offers an olive leather base with quilted overlays and a touch of distressed charm. Metallic Swooshes in a delicate pink hue add a dash of elegance, while exclusive embroidered symbols amplify its exclusivity. 
Imagine this: the holiday season is approaching, and you can own the "Be 1 Of One" Dunk Low for just $135. With its unparalleled significance, fresh color scheme, and stunning appearance, these kicks are an investment you won't regret!
These Dunks Calls For A Nike Bot!
Unless you wanna pay nearly double their retail price on resale websites like StockX and GOAT, you gotta learn how to cop 'em for retail.
These coveted dunks will fly off the shelves faster than a touchdown pass. But hey, don't sweat it! We've got your back with the ultimate Nike bot, proxies, and Nike accounts. These 3 are the basic ingredients for a good ol' sneaker-copping experience. However, never forget that a server can be the reason your whole setup breaks, and vice versa. So choose your server well! Good luck fam!