How To Style Dunks–Mastering the Game from Casual to Celestial!
In the ups and downs in the sneaker world, one silhouette remains rock solid – the Nike Dunks. 2023 was a flex fest for Dunks, from reselling triumphs to jaw-dropping collabs, they owned the game. Now, with a killer lineup teasing 2024, the hype is off the charts. So, how the heck do we elevate our Dunk game? From laid-back vibes to tailored elegance, Dunks are the chameleons of style. Just peek at icons like Hailey Bieber and Travis Scott rocking these bad boys! So now it's time to guide you through the HOTTEST, trendiest, and downright coolest ways on how to style dunks. From street strolls to upscale events, we've got your Dunk moments covered! 
P.S. Knowing how to style Dunks is just the beginning. Ensure they're the perfect fit with our straightforward size guide. Your Dunks deserve nothing less!
How To Style Dunks:  Cookin' Up Iconic Looks for Every Occasion
Before we dive in, imagine this – Your Dunks are thirsty for a color palette that talks their talk, creating a look that's not just matching but oozing authenticity. So, why not enter the arena of Nike By You to quench that thirst? It's your ticket to bossing the color game, customizing kicks that scream 'you.' 
Now,  let's jump into the ring and discover the top-notch ways to style your Dunks!
How to Style Dunks for Casual Workdays
Level up your casual workdays with a Dunk style that's all about sophistication and street-style swagger! And you can do that by pairing your favorite pair of Dunks with a tailored blazer and trousers for refined vibes.
But wait, there's more! Slip into your favorite Nike Dunks with well-fitted jeans or joggers for that street-smart edge. So, up top, keep it chill with a classic graphic tee or a comfy hoodie – feel free to pop some bold colors or patterns for extra flair. Whether it's high-tops or low-tops, simplicity is key, letting those Dunks shine. Seal the deal with killer accessories like a snapback or a sleek wristwatch, and you're ready to own the scene!
How to Style Dunks for Formal Days 
Level up your Nike Dunks for fancier occasions with a touch of sophistication and a sprinkle of sneaker chic! For formal days, mix sleek style with undeniable sneaker swag. So, you can pair clean, monochromatic Dunks (high or low) with tailored trousers or chinos for a polished base. Amp it up with a crisp button-down or sleek blazer for that refined finish. Last but not least, opt for neutral-toned Dunks, and don't forget the secret sauce – keep those kicks in tip-top shape for the perfect blend of casual and formal.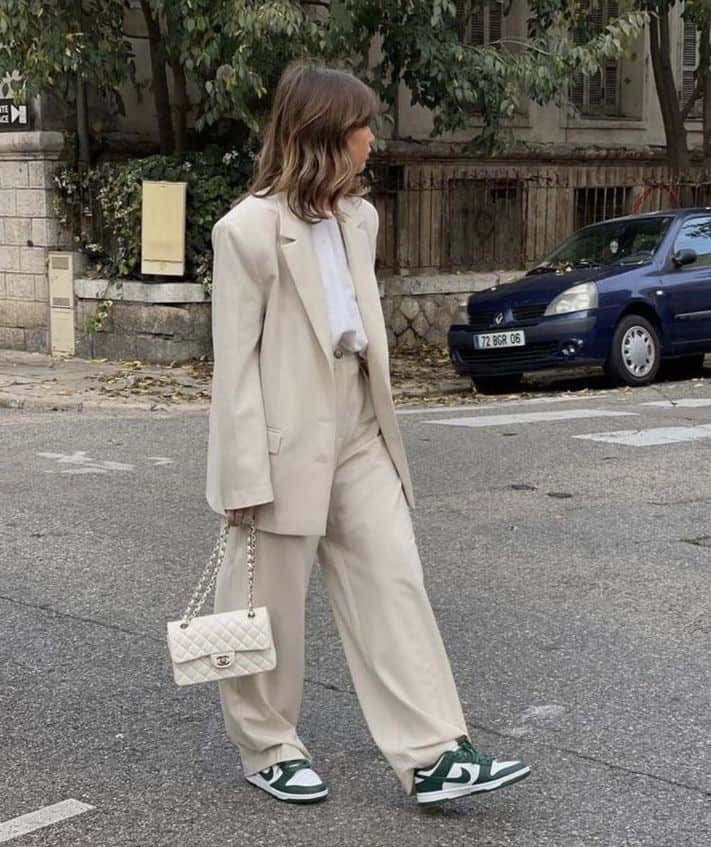 How to Style Dunks with Jeans & Jumpers
Jeans and Nike Dunks are a match made in style heaven. The clean lines of the Dunks sync perfectly with the rugged texture of classic denim. Whether you're rocking the low or high versions, understanding the right pant silhouette is key. Loose-fitting for the lows, skinny for the highs – it's a game of balance that transforms your look into a modern streetwear masterpiece.
Wearing them Dunks with Buffer Jackets
Combat the chill in style by layering with a puffer jacket. Choose from an array of colors and styles to match your personal flair. So, keep in mind that a solid-colored puffer keeps it minimal, ensuring your Dunks steal the show.
Sweatpants and Dunks
Sweatpants and Dunks are the dynamic duo for cozy, stylish vibes, especially when the winter chill sets in. Moreover, the color palette matters, so keep it cool in off-white, black, beige, or grey. Moreover, don't forget the details – mismatched socks for the low Dunks and oversized hoodies for that effortlessly chic ensemble.
Cargo Pants
Nike Dunk Lows with cargo pants? A universal truth – Dunks look amazing with all things baggy. Express color on top, keeping trousers simple in black, grey, or blue denim for that perfect balance.
Hoodies and Joggers
Nike Dunk Low completes a sweat set look effortlessly. Opt for comfort and style with a cropped sweatshirt or hoodie paired with high-waisted joggers or leggings. Moreover, add a splash of color with your Dunks for a kinda cool, and fun outfit.
How to Style High Dunks 
For rocking the Nike Dunk High, choose comfortable and coordinating outfits. Consider the color of the Dunks and opt for baggy trousers and a suitable hoodie to complete the look.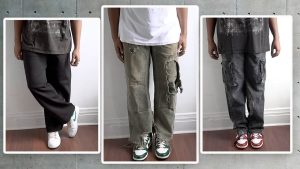 Panda Dunks: The Reigning MVP of Styling Excellence
The Panda Dunk hype ain't dead, not by a long shot! Just take a look at the Reverse Panda Jordan 1 debuting in 2024 – proof that the 'Panda' colorway reigns supreme in the style game. 
So, celebs are all over it, rocking these kicks for the ultimate flex. The leather upper? Pure luxury, making these Dunks a legit wardrobe essential.
And let's talk combos, fam. So, light blue jeans and Panda Dunks? That's a match crafted in fashion heaven. Thus, whether you roll with baggy or flared, those jeans dial up the cool while your Dunks bring the vibes. Indeed, it's a combo that's clean, relaxed, and downright stylish. Keep riding that Panda wave!
What Socks to Wear With Dunks
When it comes to socks, there's no definitive answer, but plain white or black crew socks matching the midsole color create a clean look. Furthermore, for flair, try patterned or bold-colored socks that reflect your style. Comfort is key, so choose wisely.
Quick Headsup:
So, if you're on the hunt for those highly coveted Nike gems, check out our hot guide on how to cop 'em effortlessly. We got the deets that'll have you slaying the sneaker game!