5 Cheapest Jordans: Cool, Stylish, And All Under $150!
Howdy, TSB fam! Let's start by asking you, are y'all broke broke, or just broke? We know the struggle peeps, especially since we're witnessing all them cool drops Jordan Brand been blessing us with. So, in case you got no money left 'cause you spent them on highly-coveted kicks, then you're still on the safe side. Worst-case scenario, you could resell a pair or two on the aftermarket, and you'll be pocketing them dollar bills in no time. But of course, that depends on the design you're selling. If it's worth anything like the new Jordan 4s Yellow Thunder or Black and White Jordan 1s, then you'd be not-broke in a flash. However, if you're deeply broke- financially that is- and you wanna flex a pair of Jordans as if your life depends on it, then we gotcha peeps! Let's check a list of the cheapest Jordans to ever drop! 
Oh, and before we forget, they're all under $150! Now if you're planning to be a regular in the sneaker industry, you gotta stay up-to-date with everything going on. One way to do that is through our blog, From sneaker news to new drops, and sneaker trends, shit's all there! 
Cheapest Jordans: A Mix To Fit Y'all's Tastes
Before we do anything fam, y'all gotta know that "cheap" got different meanings in the sneaker culture. It depends on the perspective you're looking from. But if you ask any sneakerhead, their automatic response would be related to resale values. This way, we come to the boring disclaimers part. We got the following list from StockX data. You'll find out it's as random as shit gets. Some new, some old. But the common thing between all five of them cheapest Jordans, is that they're all under $150! So, if you immensely wanna flex some Jordans but you're running on a low budget, you're at the right place! 
Y'all must know that the average retail price for a pair of Jordans is around $145 (If you got the chance to cop it off SNKRS, that is). That's why some people opt for other cheaper brands, while others might even resort to buying fakes. But those same people might not know, the resale market does exist! Now, although Nike put some doubt in our minds regarding StockX selling fakes, the platform is still in business and running just as well as it ever did. So, that might be all the reassurance y'all want. You also need to know that Jordans are endless, so the following list ain't even a drop in the cheapest Jordans sea. With that covered, let's not keep you hanging anymore and get into the said list! 
1- Air Jordan Series .02 Dear Dean
Jordan Series.02 Dear Dean is our cheapest Jordan for the day. Not only in resale, but also in retail. According to StockX, these joints sold at a retail of $80 in 2021, and now they got an average of $88 in resale. Not bad for a pair of Jordans. That blue, red, and white colorways might be exactly what you need to complete an outfit of yours. And the best part about them is that they got a lightweight material. Meaning they're comfy as heck. However, you need to make sure you clean'em right, 'cause you're done for if you clean them suede uppers the wrong way!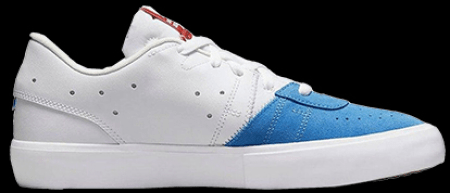 Release Date: August 26, 2021
Retail Price: $80
Resale Price: $88
2- Air Jordan 1 Low White Toe
Next, we got the Jordan 1 Low White Toe. And them white, black, and red color schemes make us wish for another Air Jordan 1 Chicago drop, minus mold issues! We sure as shit don't wanna lose our minds on copping sneakers for retail just to be bummed out with fungus-eaten pair of shoes! So these kicks feature an all-leather material, so you gotta make sure you dry them the right way or you can say goodbye to your Jordans! Why did we pick them White Toes for ya? Well, simply because neither the colorway nor this silhouette ever runs outta style! 
Release Date: October 11, 2022
Retail Price: $110
Resale Price: $90
3- Air Jordan 1 Low White Bordeaux
Another Air Jordan 1 Low? You need to know one thing about this silhouette. Whether it's retail or resale, it's always gonna be the most affordable. These low-top bordeaux sneakers were made to pop out. So, word of advice, don't overdo it with your outfit and you'll be flexing them kicks the right way. But never forget, always look like you know shit about what you're doing, and lace your Jordans like the certified sneakerhead you are! Good part is that this design ain't old one bit. It only dropped last year! So, it's a win-win business for ya! 
Release Date: August 1, 2022
Retail Price: $100
Resale Price: $109
4- Jordan 1 Mid White Black Red 
Here we go again with the white, black, and red colorway! Well, what can we say? We did say it's one of the most popular. But here we picked the brand's middle child for ya. In resale, the Mids are always the most neglected, with Lows and Highs drinking in most of the limelight. They do remind us of the once-neglected Jordan 2 silhouette. So, who knows? Maybe the Mids will get their own Virgil Abloh one day! 
Release Date: June 1, 2022
Retail Price: $120
Resale Price: $122
5- Jordan 1 Mid Lakers 
That's one colorway for the books! This reminds us of the upcoming Jordan 1 Laney. So, if by the time release day arrives you ain't as broke as a broken record, make sure you check it out. This one promises tons of cash! Anyways, the Jordan 1 Mid Lakers dropped last year in NBA Los Angeles Lakers' logo colors of yellow and purple. So, if you're in to flex some vibrant shit, these are the babies you been looking for! 
Release Date: September 17, 2022
Retail Price: $125
Resale Price: $128
What Other Alternatives You All Got?
You know you could dodge any possibility of buying fakes, whether rumors regarding StockX are legit or not. How? Well, you can buy Jordans right off from the source. And by that source, we mean Nike SNKRS! You can literally buy a pair of highly-coveted sneakers for nearly the same price as the cheapest Jordans! Take the new Travis Scott Jordan 1s as an example! 
The only catch here, you'll need to do a lil investment before that. But know that investment will last you a year long, and by the time it ends, you definitely would have made tons of money! So find yourself a powerful Nike bot. Pair it with great proxies and Nike accounts. Then head into the sneaker copping game knowing well enough that you got way more chances at catching Ws than manual shoppers.
One last tip before we leave you to it. Whether you're a buyer or a seller and you happen to mess up your StockX order, know that it ain't the end of the world. You still can right that one. Click here for your guide!