Weekly Shitpost: Travis Scott Jordans and Other Shit Hit the Fan!
Welcome to your most authentic and shittiest source of sneaker tea and saucy news. We like everything juicy 'round here, and it's only fair that we share it with fellow shitheads. Have you been keepin' an eye on the industry or not? You definitely should be because it'll outrun you if you don't fam. Luckily, we always gotchu covered. From the Travis Scott Jordans raffle to the Kanye/Drake beef, it's all in here!
Culture & Industry News: Travis Scott Jordans Dominate This Shit
Kanye vs Drake 12-Year-Old Beef is Back?!
So 12 years ago, in 2009, Kanye and Drake were actually "friends". Needless to say, it went downhill from there. You can check out the timeline of the drama here. Fast forward to 2021, and Drake throws shade on Kanye in his collaborative song with Trippie Redd "Betrayal". And fam, that shit really didn't go down well. So Kanye made a group chat and kinda threw shade back using Joker's picture… 
Oh but that ain't ending here, because apparently, he shared Drake's home address, and Drizzy responded by dropping a video of him laughing. It's wild man, it's wild. Meanwhile, we're definitely on the edge of our seats waiting for more tea.
Travis Scott Jordans Raise Almost $275K for Charity
The Darkside Initiative is a San Francisco sneaker boutique that dropped the Fragment Travis Scott Jordans with a twist! They went for a donation raffle system with the money going for the Cactus Jack Foundation. You only had to pay $3 for the raffle entry, and you could enter as many times as you want. The donations totaled $274,527 for the foundation that helps youth through education and creative resources. We love heartwarming shit yo.
Another Travis Scott Jordans Teaser or What?
We like 'em earth-toned, bland, Travis Scott Jordans. But boy is the latest teaser a sight for sore eyes! Although we only saw the red and zebra toebox, it still looks super promising. But well, who knows? That might end up being F&F, so we won't get our hopes up until we know for sure. Maybe we should keep an eye on Stormi's shoes in the meantime. *wink wink*
Marcus Jordan Teases A New Collab and We Got Mixed Feels
As much as we want to, we can't get over the AJ1 Trophy Room backdoor scandal, no cap. But well, we're guilty of feeling the excitement when we heard that Marcus Jordan is meeting with Jordan Brand again. You know, we're drawn to hype kicks like a moth to a flame. You'll probably burn of disappointment too unless you have a powerful Nike bot fam.
Sneaker Shit: Cause Travis Scott Jordans Aren't the Only Lit Kicks
So these babies' news made it to this week, but none of the Travis Scott Jordans actually dropped last week. But you know what they say about making a huge impact and shit. Anyway, we got some serious fire this week that you could have easily missed (or slept on). But they're either worth the flex or the flip, you do you fam.
Acid Wash Dunks in Black and Red
So the red pair already dropped, but you still have a chance to own the black and white ones. Make sure you keep an eye on Nike SNKRS because some groovy Dunks never hurt anyone.
Release Date: August 19 (Red) – 28 (Black)
Retail Price: $130
Avg. Resale: $181 (Red) – $180 (Black)
Aleali May x Jordan 14 "Fortune"
A women's pair of kicks that tell a story of heritage and inspired by the women in her family. It's also a tribute to her Black and Filipina roots. And if you ask me, Aleali May killed every Jordan collab she did so far, and that one is totally fire.
Release Date: August 19, 2021
Retail Price: $190
Avg. Resale: $283
UNDFTD Nike Dunk Low '5 on It'
So we covered these here, along with the awesome Acid Wash Dunk. These Dunks are pretty awesome, and if you're in the mood for some funky shit, this is what you should go for. You could also buy the matching Air Force 1, but to each their own homie.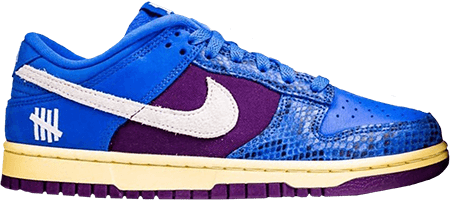 Release Date: August 20, 2021
Retail Price: $120
Avg. Resale: $215
Kith Nike Air Force 1 'Hawaii'
Now this one should have been on your radar for a long time, but we'll forgive you if it wasn't. Kith celebrated their latest store opening in Hawaii by dropping a white and light blue AF1! The kicks are a must-have, and if you missed them, you're gonna pay a lot for it sadly.
Release Date: August 20, 2021
Retail Price: $120
Avg. Resale: $690
That's All Folks!
So, that's a wrap of the last week. Make sure you stay tuned for all the things that will go down this week, but we can also do that for you! And if you're looking for a technical spin on things, we also gotchu. Here's all you need to know about Nike SNKRS proxies, and Nike accounts! You never know when your next cop will be, right?