Weekly Shitpost: Sacai Undercover Vibing in October 2021!
Alright, peeps, this week we got lots of shit going on. From Yeezys' very own changing his name to the Sacai Undercover sick three-way collab, we got it all. So if you're into all the saucy news, you're in the right place! Oh, and to spice things up, you can throw in a couple of Js, and you're set. So, what went down last week? Let's check it all out. But if you're looking for spookier shit than Ye's attitude, these Halloween AF1s are for you! And if you're not a Halloween person (judging you so bad), you can check out these holiday-worthy red Jordans.
Sacai Undercover: The Right Kicks to End the Month With
Whoever told you that you have enough LDWaffles was not thinking straight. You can never have too many LDWaffles. We already discussed the three-way collabs previously, but now we got more tea on the Sacai Undercover collab! If you're not familiar with the brand, Undercover is a Japanese streetwear brand like Sacai. And in 2021, the two brands are collaborating on the famous Sacai LDWaffles.
The silhouette is the same as usual, but it's the colorways we're totally digging. The kicks will come in the three primary colors: yellow, red, and blue!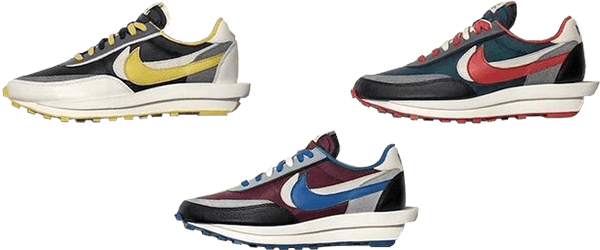 The yellow pair features a mix of grey, black, and white on the upper. The red one includes a little dark green, while the blue has a burgundy tint! So, all in all, it's a pretty colorful pack!
Now let's get to the release info of it all! The Nike Sacai Undercover pack will drop on October 29, 2021, for $170 per pair. The kicks will drop at Sacai and Undercover stores and Nike SNKRS! And that calls for some excellent Nike bots, right? And trust us when we say that they're worth it because if you cop multiples, you'll be making good cash, yo! You can flip the kicks for about $320-$380.
Ye's New Name and New Boots are the Shit?
Okay so, the Sacai Undercover collab is some big shit. But the second most significant news of this week's shitpost is Kanye West's name change. Yes, he officially made his dream come true by changing his name from Kanye West to just Ye. Ye. Simple, unlike the controversial man behind the name! But why did he do that? Well, it's some personal shit. But we'll miss Kanye Omari West.
And, to make things even more controversial, he's blessing us with a new Yeezy silhouette! Well, kind of. The new Yeezy NSLTD BT looks nothing like Yeezy boots, and we're kind of insulted that Ye would call it that. Pun intended. The BTs feature a Foam Runner wannabe sole with a puffer-like upper material that goes above the ankles. Plus, it has velcro strips instead of laces. In short, it's pretty shitty, and not everyone thinks that it's in a good way. Rumor has it that the NSLTD BT will drop in November 2021, retailing for $250.
Nike Air Ship Sells for… A Lot
The most incredible shit in history just went down. So, Sotheby's sold MJ's game-worn Nike Air Ship, from 1984, for 1.472 million dollars. Now that's some expensive shiiiit! It's another record-breaker by Nike coming second after the Nike Air Yeezy I Prototype that sold for $1.8M. The one and only MJ wore these kicks during his fifth NBA game as a rookie on November 1, 1984! Anybody looking for our game-worn kicks? No?
Jordan 1s Are Trippin' at This Point.
Not that we won't be buying, but Nike is milking their AJ1 popularity. I mean, what's up with the new women's Jordan 1 Bred platform? Are we back in the mid-2000s? Let's just hope that low-rise pants don't come back after this. But anyway, we're pretty sure that this shit will be popular with some people. We'll keep you in the loop when we get info on these… or not.
Reminder: Don't Miss the Sacai Undercover Drop
Okay, this week was loaded, but our favorite news is the Sacai Undercover drop. It's a pretty sick release despite having lots of LDWaffles. But maybe Nike will take a break after these? Or not? Who knows, as long as the Swoosh is making them sales, they'll keep 'em coming! And if these ain't your gig, it's OK; we'll always bring you the latest shit in the industry to keep your game strong!