A Halloween Air Force 1 Is Just What You Need on Spooktober!
I put a spell on you, and now you're mine! Well, we wish we could put a spell on them Halloween Air Force 1 kicks so they end up ours. Unless you're Harry Potter that is, but fat chance. Let's go back to reality now and check out the upcoming spooky kicks! These pairs will make a sick collection with the Halloween Dunks, and you can't convince us otherwise. Anyway, let's fly our way through these babies now!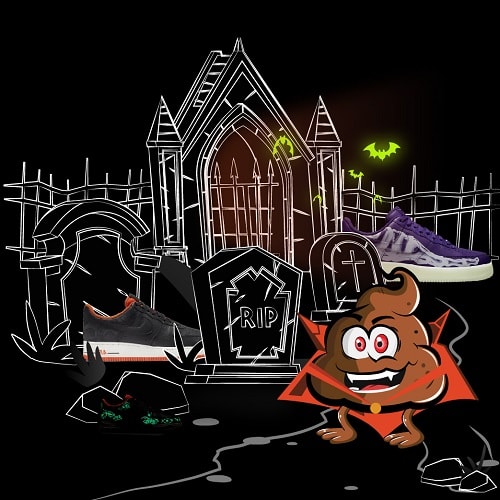 Halloween Air Force 1 – Nothing Beats Some Glowy Spook
If you thought the Halloween Dunks looked good with the evil cartoon eyes, then you'll totally love these. You know that green glow is like the spooky trademark of a shitload of things, so why not kicks? Let's not forget the very jack-o-lantern-ish orange and premium black leather mix! The end result? A crazy pair of kicks to go trick or treating in.
Release Deets
The Halloween Air Force 1 will drop on October 21, 2021, for $130. So if you are, or you know, a sucker for Halloween, that's totally the pair you should go for. And you could always flip them joints for about $243 for $100+ in profit! With a value like that, flipping multiples sounds like a smart idea.
And a Nike Air Presto Halloween to Complete the Pack
So you got the Dunks and the Halloween Air Force 1, why not own that shit to boot? Nike is completing the set with a really cool spooky take on the Air Presto. The upper ain't leather though, it's actually neoprene along with a rubber cage. Another turn-off is that we got not glow in the dark, but don't be put off! The evil eyes graphics are still there with the orange deets. You can cop these on October 21 just like the AF1s. They'll retail for $150, and they're worth about $227 in resale!
A Skeleton Adds a Lil Bony Flavor to the Mix!
For the 4th year straight, we're gonna get the anatomically correct, spookily realistic Skeleton Air Force 1. In 2018 we got the all-whites and 2019 was a black upper white sole kinda year. But 2020 went all pumpkin-ish on us with an orange leather upper. And this year? It feels a lil witchy with the purple leather upper. Naturally, the glow-in-the-dark midsole is there! That kinda makes you think, what will the 2022 Skeletons look like? Our bet is on either gooey-green or blood-red!
Release Deets
The Air Force 1 Skeleton has no set date but it's definitely coming in October 2021. They'll retail for $130 just like the Halloween Air Force 1. And since the spooky take on the silhouette is such a success, you can flip them for $325 on average. So make sure you try to get your hands on a pair once we have a drop date!
Halloween Air Force 1 Kicks Need a Special Potion
Or a really good Nike SNKRS bot that will successfully get you through the checkout page! But make sure you get some really reliable Nike accounts. You can find the best providers here because we won't leave you hanging fam. But that shit ain't complete unless you get some proxies to mask your IP. And we got some shit done by rounding the best proxies up for ya! Good luck homie, stay spooky!