Nike Easter Paints Spring 2021 With Everything Pastel!
Oh, how we love the spring season. When flowers bloom, birds chirp, and we poop our brains out with hot sneakers! And seriously, is it really spring if Nike Easter kicks weren't a thing? Luckily, Nike knows that and they're dropping a shitload of kicks and colorways for us! All of them have one thing in common: pastel colors. We're totally not complaining and loving the road the Swoosh is taking! If pastels are your thing, better keep on reading.
A Flex Break First Though
Now that we got the updates to rev up TSB, it's unstoppable! TSB users managed to secure more than 4,000 pairs of Jordan 1 Patina on drop day. That would make around $500K in profit, and we're here for it! So if you wanna be a part of the shittiest fam around, you gotta get yourself a TSB key. Can't afford it? No problem! Our giveaways will give you a chance to win a TSB key for free. So what are you waiting for?
🔄Random RT Wins TSB

💩4000+ JORDAN 'RUST SHADOW' CHECKOUTS💩

The U.S release got delayed but TSB users still POOPED those Jordans on multiple regions!👇🏾
🇲🇾🇸🇬🇹🇭🇪🇺🇯🇵🇦🇺🇨🇦🇷🇺

💰$500,000+ RESELLING PROFIT💰 pic.twitter.com/h7NNmOA85o

— The Shit Bot (@The_Shit_Bot) March 25, 2021
Nike Easter Kicks: It's All About the Pastels
As we already mentioned, this year is gonna be on the next level in terms of Easter-themed kicks. We'll give you a brief tour of all the upcoming drops to kickstart the most colorful season of the year! But, we'll give you a heads up first. Most of these kicks don't have a set release date. We assume that they'll drop around Easter though!
Air Jordan 12 Low "Easter"
Although this is a spring pair, we can't help feeling the chill! With an all-white leather upper and translucent ice soles, we can't help falling in love. And with the metallic eyelets and black heel tab, the look is pretty complete. The pair will drop on April 3, 2021, for $190, and it actually resells for around $400! Oh, and it'll also be available in GS sizing for $140!
Nike Easter Dunk Low & "Green Glow"
Now here's a pretty colorful pair with spirit! Although there are no release deets yet, the pair gives off some Nike Easer vibes. It's also part of the Free 99 collection which has another black leather multicolor pair! We felt that the white leather pair gives a more Easter-ish vibe, ya know? The overlays come in a mix of purple, green, blue, and pink! Finally, the outsole rocks an awesome yellow with multiple colored paint splatters!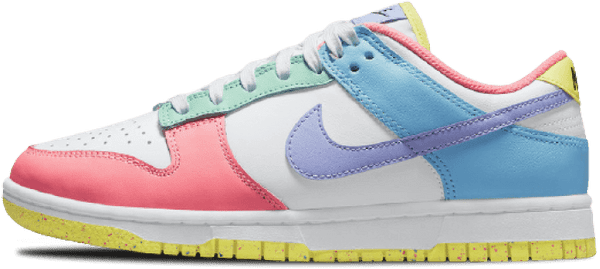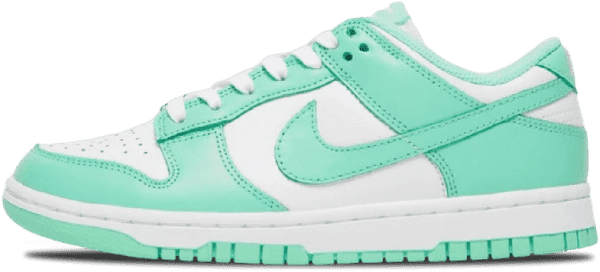 Another pair in the Easter lineup is the Nike Dunk Green Glow. The pair features a white leather base with overlays in a pretty nice shade of green. We can also find the same color on the outsole to complete the look. Both pairs will be women-exclusive releases and will probably retail for $100. We still don't know how much this will resell for, but pretty colorways always sell!
Jordan 1 High Zoom CMFT "Easter"
The Zoom CMFT iteration is a pretty modern take on the classic Air Jordan 1. No complaints there, the kicks are lit either way! Anyway, the Nike Easter Jordan 1 comes in a very light colorway. Literally. The new pair features the most pastel colorway ever, you can barely tell the colors! And that's what makes the kicks pretty interesting, along with the cool mesh swoosh. It kinda reminds us of 2020's Jordan 1 Mid Milan! We expect this pair will drop around Easter too, probably for $170! 
Nike Easter Air Max 90 & Air Max 95
We just can't with all the nice sneakers, and we also can't get enough! The upcoming Nike Air Max 90 rocks sail and white like there's no tomorrow. But anyway, Nike broke the monotony and threw pastel green on the translucent TPU heel branding. The same color is also on the outsole. The new Easter pair will probably drop around Easter too to celebrate the holiday! These kicks will be women-exclusive and will retail for $140.
The second Air Max on the list is the sexy 95. The pair rocks a mix of materials and colors that are mostly… pastels! The main color is light purple, with light beige, pink, and green that blend really well. This pair will be available in men's sizing and goes for $180!
Nike Easter Kicks Aren't Really Complete Without an Air Force 1
Air Forces are some of the most versatile silhouettes in the industry. We all love them, and we all find something that suits our taste. And the new Nike Easter Air Force 1 Shadow colorways totally up for that challenge! Both pairs will be for the ladies though, sorry guys. The first pair will rock a neutral white leather upper with pastel green and purple details.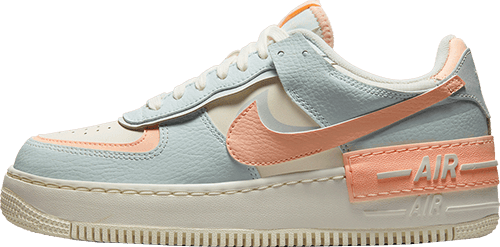 The second pair is slightly more colorful! We've got the usual white base with (literally) barely green and crimson tint shades. That's a fancy way to name some more pastel shades yo. Anyway, the pairs will retail for $110 as usual. And if you're interested in any of these kicks, keep it locked on TSB blog. We always get you the latest news!