Nike Dunk Syracuse Comes Back in High Cut Along With a Black Dunk!
Dunks, dunks, dunks! That shit never goes out of style, especially when you've been around for a long time. And when we get classics back from the archives, it's like carnival day! Luckily for us, we're getting two new dunks pretty soon. One of them is Nike Dunk Syracuse in its full OG glory! We're also getting a pretty fantastic black pair that we'll also take a look at. But whether you're going for the first, second, or both, you gotta take proper care of them kicks, fam!
A Little February Recap Won't Hurt Tho!
February was an excellent shitshow for our users. With more than 65K checkouts, we're all rooting for the best shit in town. TSB helped the users earn more than 15 MILLION DOLLARS in profit, and that's just one month. So if you're diggin' the vibe, you gotta get yourself a copy of TSB! Fortunately, you always have a shot at winning a key with our giveaways, so better start participating.
Nike Dunk Syracuse: Who Said College Kicks Ain't It?
If you know your Dunks, then you know how this silhouette became the icon it is today. It first started with a bunch of colorways for different universities in the United States. The pack was conveniently called: "Be True to Your School". The sneakers were made for seven different college teams and the hearts of sneaker fans. This pack made such a deep impact that the many newer sneakers were low-key inspired by them. The most notable is Virgil Abloh's Off-White Nike Dunk! 
Nike Dunk Syracuse was one of these awesome kicks with its popping white and orange leather upper. In fact, it was so good that the 1985 colorway retroed for the first time in 2016. And that pair is worth about $500! But then Nike brought us the colorway in low top during 2020, almost exactly one year ago. And in all honesty, we all wanted in on that shit, because it flips for $600 on average!
The Deets
You're probably excited about that drop and wanna know all about it! Rest easy fam, the kicks are dropping on March 10, 2021, for $110. Now, although it's a women's exclusive, we're sure some men will find the right fit. And it's also dropping in kiddie sizes, so maybe it's time to go twinning? But speaking of women's releases, the ladies sneaker culture is becoming more popular! In fact, the pair of Nike Dunk Syracuse currently resells for about $500. That's a pretty appealing number if you ask me.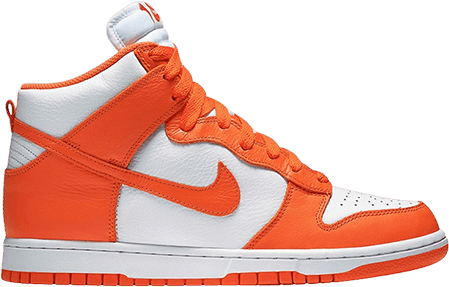 Nike Dunk Syracuse Drops This March… But Not Alone!
You know what else is dropping on March 10? Another Dunk, in low top. The new Dunk features a black and white leather upper, which is pretty simple. It could be the beater you need this spring if you don't wanna wear your Syracuse pair regularly. The pair is also a women's exclusive and will retail for $100. And just like all colorways that look good no matter the occasion, it's gonna be worth the effort. You can actually flip the pair for about $350, so that's $200+ profit, and if you cop several pairs… $$$$$! So make sure you're ready for both drops before it's too late!