Nike Christmas Shoes 2020: Have You Been Naughty or Nice?
It's beginning to look a lot like Christmas! We'd like to wish you humans a Happy Thanksgiving. May your turkey never run dry and your feet dress to impress! That's just about the right dose of endearment you can expect to get from The Shit Bot this time of year. We're totally psyched about the Nike Christmas Shoes dropping soon. We've got the Air Force 1 Christmas dropping alongside a festive Blazer Mid and Air Max 90. Which kinda look like the disciples of "The Force", don't you think?
The Air Force 1 Christmas takes on the legendary Nike Ugly Christmas Sweater vibe of the Concepts Dunk collaboration. Which, FYI, is reselling three years later for up to $1,300. With three other Concepts "Ugly Christmas Sweater" Dunks valued in the same $500+ range. So if you've got one of these releases in your collection, you can afford not being in a festive mood this year. 
The Shit Bot Restocks TOMORROW!
Black Friday's literally TOMORROW, people! This is your last chance to huddle up @The_Shit_Bot and score your own TSB copy this year. This ain't a fake drill or a rumor. TSB is restocking on Black Friday 2020. 
For a quick recap on our performance throughout 2020, click here for our golden mentions! With roughly 80K checkouts and $5M in user profit this year, TSB is the only Nike bot worth buying for a shot at 2021 success, fam. You know it to be true. Ain't nobody telling lies on Thanksgiving.

Nike Christmas Shoes: Feast on the Nordic Cousins
This Nike Christmas Shoes pack is a fully decorated tree! The Air Force 1, Blazer Mid, and Air Max 90 dress up in unique takes of the red, green, and white colorway. The Air Force 1 Christmas leads the celebration with a dominantly red Christmas sweater fabric. A green side strap and fluffy white sockliner complete the Holiday vibe. The Air Force 1 Christmas is set for December 7th for a retail price of $120 only. This red-nosed Nike is valued for at least $700 on the aftermarket. With a current resell limit at $1,800!

The Blazer Mid Christmas pair drops in a polar opposite colorway to "The Force." It displays a dark green leather base with green Christmas sweater overlays. Similar concept to the Air Force 1, totally different execution. The Swoosh on the Blazer Mid delivers a red pop and the fluff around the sockliner sticks mainly to the heel area. It will also drop on December 7th but for a retail price of $110. It is valued for at least $650 on GOAT.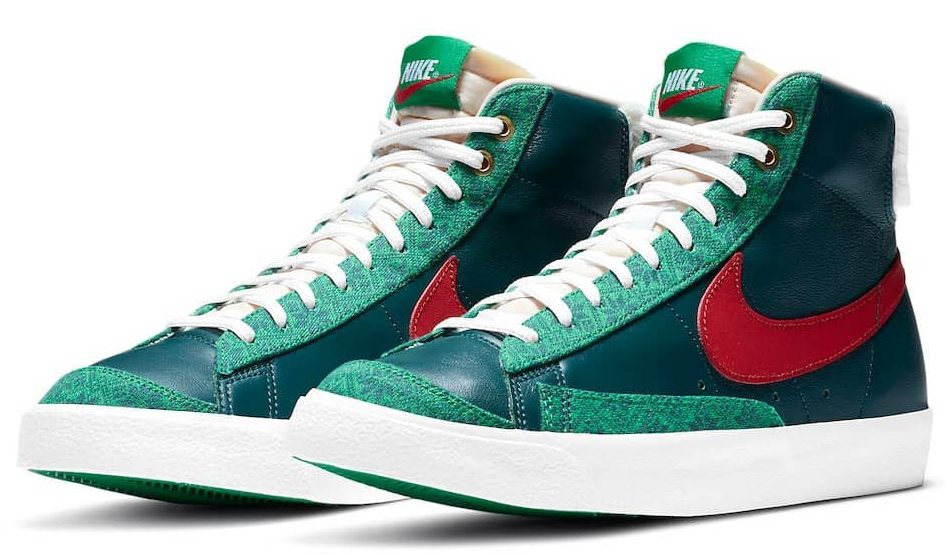 Last but not least is the Air Max 90 Christmas. Which presents a mashup of the previous two on our not-so-naughty list. This pair's got a green Christmas sweater upper and white leather sections. In addition to its popping red sole unit and Swoosh, it takes on dark green leather eyestays and outsoles. It also includes the signature fluff on its sockliner for a festive finish! Also expecting to release on December 7th, the Air Max 90 Christmas will retail for $130. This pair's game falls behind on resale at a $277 value on average. It ain't what you'd expect from a Nike Christmas shoes member, but it's still a decent flip!

Remind Us Again What You'll Be Doing Tomorrow…?
December 2020 is packed with sweet-as-pie Nike releases. The hottest brands and collaborations crank up the hype around the Holidays, you know it. So the kicks you cop this Holiday season can set you up real good for 2021. That is, if you succeed at copping these resale prizes. In case you didn't get the hint, this is a bold reminder to show up steady tomorrow and get yourself a TSB copy. This opportunity won't present itself till a very long time, friend. Don't go hurting your future like that.