Jordan 1 Mold Issue: A Sneakerhead Horror Story!
Jordan 1 mold issue ain't your typical gothic horror story, It's not something that MIGHT happen if you leave your kicks ditched in a corner for a long time. Or if your Jordan-clad feet drown in mud on a rainy day. Well, latter's an easy fix as long as you got the right cleaning kit by your side. And to dodge the former, learn how to store 'em kicks right, and you'll be on the safe side. But with mold eating up your Jordan 1s, is shit as reversible? 
Jordan 1 Mold Issue: A Dagger Right To The Holder's Heart!
Today's horror story is based on the truest of events, y'all! It's definitely not for the faint-hearted. So, what exactly transpired during last week's Lost and Found drop? Well, sneakerheads and resellers were more than ecstatic that AJ1 Reimagined found them. But the meet n greet didn't go so smoothly for some. More like, the whole-ass release wasn't smooth for both buyers and sellers. 
Let's start with the AJ1s and moldy shit ordeal. As y'all know, the highly awaited AJ1s dropped on November 19, 2022. Peeps were more than thrilled to have scored a pair or more. But the surprise was that the second the packages started arriving, shit hit the fan. Some unfortunate buyers received their kicks covered in mold. And sadly this ain't some analogy for a lil dust or something. The highly coveted classics were literally covered in fungus shit.
Now AJ1 owners went into the spiral of the year. Do they return it and call this cop a fail? Or do they keep it? Cause ya know, since kicks are exclusive, you might be getting your money back but definitely not a brand-new pair! This means that you'll have to wait till the next Reimagined Chicagos drop… if there were any. 
Jordan 1 Mold Issue: Shit Doesn't Stop There..
So, maybe Nike took the whole bringing back the 1985 pair too seriously! Mold mainly covered some of the kicks' heels and ankles. We did ask for the Classics, but we sure as shit didn't ask for a badly-stored-1985-Chicagos-like Jordan 1s!
What happened after that? Of course, some of the unlucky buyers posted about their Jordan 1 mold issue on platforms, like Twitter. While others spammed Nike with complaints. The Swoosh took action on-spot, as it started canceling orders affected by this issue. Not only that but retailers were asked to return all the defective units to the company. Shortly after, a spokesperson responded to this issue on Jordan Brand's behalf by saying, "we are aware of the issue and are working to address it to improve future experiences." Although we truly appreciate the sentiment, Jordan Brand, how about improving the current experience and leaving the future for the future?
What's more, is that the copping experience of the Classics wasn't exactly the best for buyers. The SNKRS app underwent technical issues the day of the drop, preventing sneakerheads from getting ahold of a pair. The app glitched, which led to an outage. The horror! And that ain't all, as many sneakerheads received error messages and app crashes the moment they logged in.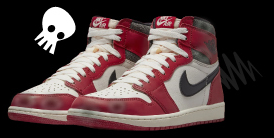 What Happens Now? 
Turns out, Jordan 1 mold issue ain't so widespread. Some say that defects make less than one percent of the overall stock produced. Also, multiple retailers reported having no affected units in their stockpiles at all. 
So, if you were among 'em unlucky peeps, you got some options. And sad enough, replacing them ain't one of the alternatives. One thing you could do is try and clean the mold off. That if it doesn't take over much of your sneakers. You could try the deep cleaning sneakerheads do when they leave their Jordans unattended for a long time. Or you could refer to a guide specifically done for mold-removing. Another option you got is selling your affected Jordans at a discounted price on B-stock. And if you're not ready to give 'em up for a low price, try cleaning them. And if all goes well, you can either flex your AJ1s or sell them on resale platforms. 
On a final note, now that the Holidays are near, you don't wanna risk buying the sneakerhead in your life some moldy kicks. Therefore, make sure to check the gift guide here. It has all the gift ideas you might need, all of which are NOT kicks!