Top 6 Best Blue Dunks to Step Up Your Sneaker Wish List
Let me tell you, putting together a list of the best Blue Dunks wasn't much of a difficult job. Other than Blue being a signature shade for Nike, this model from 1985 continues to capture the souls of not only skaters but all sneaker lovers around the globe. Firstly introduced as a basketball sneaker, the Nike Dunks sure caught the hearts of all sneaker community members over the decades. Offering not only functionality but countless creative colorways to please absolutely everyone. Without further ado, here are our favorite Blue Dunks over the years.
The Best Blue Dunks: Our Top 6 Picks
Ranging from subtle and traditional to colorful and bright, this list sure has something for everyone.
Nike SB Dunks Born x Raised
This original SB model was given a makeover by the LA streetwear label "Born X Raised." So, the Born X Raised Dunk silhouette features a clean white and blue color scheme, with white on the tongues, quarter panels, and toe boxes and blue on the overlays. Crosses replace the traditional dots on the toe boxes, and holographic heel panels and an updated "Born SB" logo round out the upgrades. In addition, Born x Raised uses the slogan "One Block at a Time" on its footwear's tongue labels and toe caps. You can find them on Stockx for an average of 420 USD.
Dunk Low University Blue
Reminiscent of the 1985 original colorway, the Dunk Low "University Blue" has a clean two-tone color scheme. Powder blue overlays and a blue Swoosh complete the all-leather upper, and a regular rubber cupsole serves as the foundation for this low-top. Snatch these classics on Stockx for an average of 490 USD.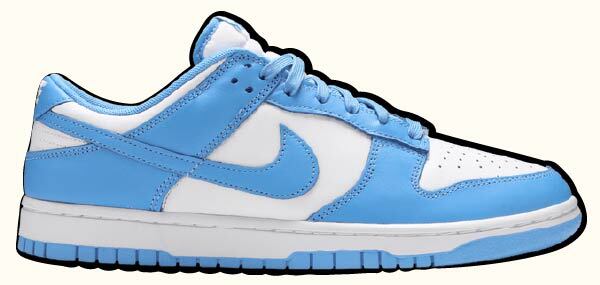 Dunk Low Hyper Cobalt
Back in 2021, this "Hyper Cobalt" timeless silhouette dropped in a two-tone blue-black color scheme. So, these low-top Dunks are constructed with a leather foundation and a synthetic tongue. Overlays in the shoe's namesake color land on the forefoot, heels, and neck, while the toe boxes, quarters, tongues, and collars are all black to provide a contrasting look. Going down beneath, the "Hyper Cobalt" outsole provides stability for the white midsole. There's a hint of orange on the inside, too, thanks to the branded Swoosh.
If you're in for one, you better hurry! There are currently only 6 of them on StockX!
Dunk Low April Skateboards
Founded by Shane O'Neill in the Spring of 2019, April Skateboards is young relative to its colleagues. Yet, the team has accomplished a lot in terms of rider acquisition, tournament placement, and public sentiment in the past four years. But, an astounding Nike SB Dunk Low collaboration is sure to bring unprecedented attention to the developing skate team.
April Skateboards' Dunk vision brought suede, mesh, and leather to create its brainchild. A vibrant blue animates overlays throughout the sneaker, working together with silver aglets and co-branding on the spines. Underfoot, outsoles boast an icy finish that complements the top-half well, while also exposing a number of rich blue details.

Grab them on Stockx for an average of 240 USD.
Dunk Low Jade Ice —Best Blue Dunks
At this point, are you guys even surprised at the widespread popularity of the Dunk Low? Introducing the Dunk Low women's special in "Jade Ice" flavor. So, the top is a mishmash of panels, with smooth leather serving as a backdrop. Everything from the toe box to the heel is animated by a "Jade Ice" tone that contrasts with the "Summit White." A semi-opaque plastic bumper protects the toe and the area around the heel. Furthermore, the TPU part of Moore's Dunks makes them unique from the original and gives them a twist.
Want a pair? These are selling for 120 USD on average. Talk about a steal!
Dunk High Midnight Navy
The Nike Dunk High "Midnight Navy" brings back an original hue from 1985's landmark "Be True to Your School" collection. So, the high-top is original to Villanova University and has a leather upper in white with blue overlays for contrast. Nike logos are stitched into the sock liner and braided into a tag that sits above the nylon tongue's minimal padding for extra style. Also, a white rubber cupsole supports this shoe with a navy blue rubber outsole.
Get your pair for 185 USD on Stockx.
Wrapping up the Best Blue Dunks
Only 6 out of a list of hundreds, each of these Dunks is sure to satisfy any sneakerhead's desires. As the sneaker world is as colorful and creative as anyone can imagine, Nike definitely does not shy away from the bold and the daring.