Nike Dunk Cobalt Got Us Feelin' The Blues [Feb. 2021]
The popularity of Nike Dunks spiked over the last couple of years. So many people were happy to cash in on the hype, but the OG enthusiasts weren't. But whether you in for the love of the game or to make some cash, we gotchu fam. TSB dominated that shit since 2019 and will keep on doing so. With 45+ regions supported, and 95% consistency, it sure is the best Nike bot in the game! And if you wanna make the most of the new Nike Dunk Cobalt release, make sure you join our giveaway. A free TSB key never hurts, right? And speaking of hot Dunks, the All-Star release got our gears turning! 
🔁RT – WIN TSB

🤜🏾🇺🇸LIMITED RELEASE SUCCESS ON U.S 🇺🇸🤛🏾

USERS COPPED 400+ ULTRA RARE 'STREET HAWKER' DUNKS!!💪🏾

RESELLING AT $700+ PER PAIR – THAT'S SOME REAL GOOD SHIT💩 pic.twitter.com/1TdwKx3yM5

— The Shit Bot (@The_Shit_Bot) January 22, 2021
Nike Dunk Cobalt: Royalty in Disguise?
Almost 36 years later, Dunks are restoring the hype they deserve. And with all the interesting colorways we already got, it's no wonder the new colorways look that good! One of them is Nike Dunk Cobalt with its very interesting color scheme. If you've been around for a long time and know the drill, then you know what the pair looks like. The kicks feature a black leather base with blue overlays. The white midsole sits on top of a blue outsole. Ringing a bell in your head already?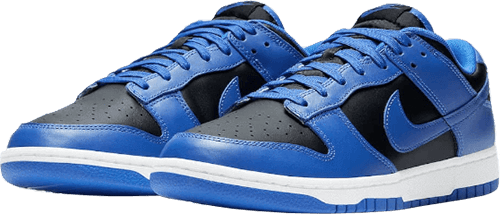 The colorway looks really similar to the OG Jordan 1 Royal Blue. The latest drop from the royal family was Jordan 1 Royal Toe in 2020! Although it's a really popular colorway, we never actually got a low-top version of it. So if you're a royalty fan, investing in a pair of Nike Dunk Cobalt, or more is a good idea.
Let's Talk Cash!
We already went through the moral value the kicks could hold, but we didn't discuss the money! Nike Dunk Cobalt will drop on February 16, 2021, and will retail for $100! The pair will also be available in kid sizes. It was initially scheduled for a Feb. 11 release, but well, that's how the industry works. But whether it's on 11 or 16, the kicks are hard to miss on. But if you do, you'll have to spit around $1,000 to get it from the aftermarket! So if you manage to cop a couple of pairs, you'll be making some good lunch money *wink wink*.