Union is Releasing a Jordan 4 Taupe Haze with Hiking Shoes Vibes
What's up fam? We have another birthday to celebrate today. But no, it's not a fellow silhouette's birthday. It's Union Los Angeles' 30th anniversary, and the brand is teaming up with our one and only Swoosh to give us more Air Jordan 4 colorways. And TSB's star of the day is the Taupe Haze Jordan 4.
The Taupe Haze Jordan 4: But First, A Lil' Bit About Union
Union is calling its upcoming Jordan 4 collabs "Tent and Trail". And that's the brand's unique way of thanking the outdoor life and gear from the 80's and 90's. Another era being appreciated thanks to shitty Covid. Anywho, this kit included stuff like bubble goose jackets, hiking boots, camping-related shit, and other similar stuff that got incorporated into everyday style back in the day.
And from that idea, the brand is reimagining the AJ4 as if it came from those good old times. In order to portray that image, the retailer is utilizing some signature colors from the old outdoor apparel and hitting its new shoes with them. We know, you already got a Taupe Haze back in Jan. Nope! This ain't the same one, fam. This AJ4 is just way different. And honestly? WAY hotter!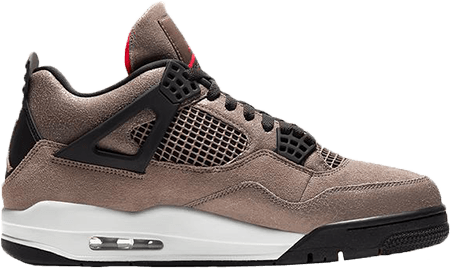 A Look Like No Other
The University Blue AJ4 was pretty release and all. But this one is just something else. As with the "Off Noir" and "Guava," the Taupe Haze Jordan 4 also features a pre-folded tongue that can be spread out. This cool element is to remind us of the way Union's Chris Gibbs rocked his Jordan 4s when he was just a lil' sneakerhead. Like older versions, translucent wings are also returning for this Jordan 4.
The pair is constructed from a combo of leather and suede, where the Taupe Haze hue runs across most of the upper. Blue Fury and Roma Green pop-ups liven up the shoe with the tongue, liner, heel, and eyelets. The laces of these AJ4s are pretty cool too, they kinda weave the same neutral color with a bit of green, bringing the look altogether. Finally, down below, midsoles are done up in a sail shade, where they compliment the upper and give us more and more earthy vibes.
You can spot the branding through a "Union LA" yellow tag towards the lateral webbed paneling. And another cool hangtag reading 1991-2021 marks the occasion of this 30th anniversary and finishes of the look of the pair.
Cop and Don't Stop!
We know, the Jordan 4 isn't always the life of the party. But this Jordan 4 Taupe Haze is gonna be lit. And you don't need us to tell you that, fam. Go and check it out yourself. This pair is the shit. It's firing up like crazy on the after-market.
A shoe that is going to drop for $225, and is already for a flamin' $918 bucks on GOAT. The money you can make out of these babies is insane. We know, this is just nuts! If you don't secure yourself AT LEAST one pair of these, this will probably be the biggest L for 2021. And you don't need that in your life right now, peeps. So make sure you get your TSB copy, the shittiest bot in the game. Or else, you won't be seeing this Taupe Haze, not in your wildest of dreams.