A Quick $100+ You Can Make Out of the Jordan 4 Taupe Haze!
We kinda made our peace with not having a pair of F&F Travis kicks. Well, that's unless you really are a friend. So anyway, Nike and Jordan Brand are famous for catching up with the vibes before everyone else. And when they smell a whiff of popular kicks, we get a variant. And boyyyy do we want a piece of Travis' Olive 4s! So here we are, with the closest we'll get to it: Air Jordan 4 Taupe Haze.
A Travis Scott Jordan 4 Olive Wannabe
We do love unreachable kicks. Back in 2018, pictures of Travis wearing an interesting-looking olive Jordan 4. However, no matter how long we all waited, we didn't get them! The olive suede Cactus Jack sneakers had that really sexy appeal to every sneakerhead out there. Later on, we saw Kylie Jenner rocking the kicks too! That's when it dawned, it's a friends and family pair with not release date soon! However, we can notice that the pairs Travis and Kylie rocked are different. To be specific, Kylie was wearing a pair that looks VERY similar to Jordan 4 Taupe Haze. That leaves us with a question: Was Kylie's pair a sample that Travis scrapped and came back a couple of years later as a general release?
2021 Hit Us Like a Truck with Jordan 4 Taupe Haze!
The new Jordan 4 Taupe Haze is a pretty good alternative to the F&F Travis pair. And that's not news for us, it already happened with Jordan 1 Mocha and the Travis pair. Although we've got some differences. The upper features an olive-brown suede upper and black midsole. However, we've got an extra white part in the midsole, which makes all the difference. The heel tab comes in black and features a Jumpman in taupe too. If you ask us, that's dope.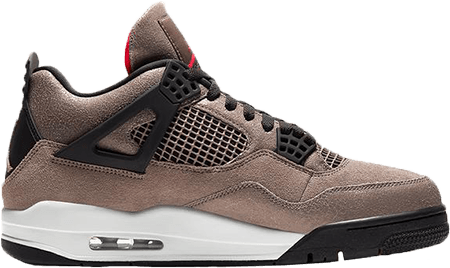 The kicks will probably drop on January 28, 2021, for $200. That's a pretty good bargain for a pair of Jordans that look like Travis exclusives from afar. And if you wanna flip, you'll find a pretty good market for 'em. In fact, these resell for $400 on average! And the harder the size, the more you'll be cashin' out.
TSB Always Will Get That Shit Done for Ya
Tired of taking Ls on every Nike release? TSB's the right bot for the hard job. So if you're looking for a way to get the best Nike bot around in the industry, here's your chance. Our latest updates are here to make TSB unstoppable. And YOU can win your own FREE copy by just retweeting!
🔂RT – WIN TSB

LATEST UPDATES📈

✔️Enhanced entry submissions for optimal CPU/RAM usage🔋
✔️Instant order resubmissions when site down/errors faced🤖
✔️MAJOR Speed improvements⚡️
✔️Better product url fetching
✔️Pre-carting & item reservation for flow/restocks/back-end products🛒 pic.twitter.com/NKdfGhRT9o

— The Shit Bot (@The_Shit_Bot) January 15, 2021