Brace Yourselves! Union Dunks Take Off to Dripland Soon!
You know it's gonna be some good shit when people are already buzzing with excitement. Or when leaks begin ages before the actual release! That's exactly what's happening with the really awesome Union Dunks. If you didn't hear about them yet, you're totally living under a rock. Anyway, we're gonna fix that and show you what's up with this hot collab! Read on to find out why Dunks are definitely not dead.
Now that We Done with Union Js, We Move on…
Okay, so backstory time. Union LA is definitely not a rookie at the collaboration game. They didn't give us one, two, or even three pairs. Instead, we got 10 different pairs of Jordans! From different colorways to silhouettes, the Union Jordan game was next level. The list of silhouettes includes the famous Air Jordan 1, and Jordan 4s in 4 different colorways. There's also the less famous Jordan Delta, and Jordan Zoom 92. That shit was and still is underrated if you ask us! Anyway, you can buy all these babies on the resale market. The 1s are high ballers though, so better go prepared!
Union Dunks, Because Why Not Expand?
So by all means, Union Jordans are a success. So why not take it a step further and expand to Dunks? 2021 wasn't the year for the silhouette after a couple of years of straight fire drops. But maybe, just maybe, the Union Dunks will bring back heat to the table! And so far, we have rumors of two awesome colorways: Blue and Midnight Navy.
Some Deets for Ya!
Both kicks will feature a grid-like upper with contrasting stitching. The first pair rocks a mix of baby blue and light purple with red stitching to top it off. Meanwhile, we got a minty base with blue overlays on the second pair. The stitching comes in midnight navy just like the kicks' name says! So it's safe to say that these babies are gonna be bangers. Now we don't have any release deets on that shit, but we should expect them to drop sometime in 2022. And the whole packaging is inspired by flight!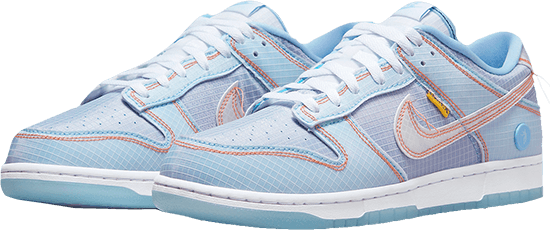 Besides Union Dunks, What Are We Gettin'?
Now that we know we got some Dunks in the 2022 lineup, there's also more to come! Union Jordans are making a comeback with a new silhouette up and two colorways. Air Jordan 2 seems to be on a roll with crazy collabs like this year's Off White AJ2 drops! So if you started your new year sneaker-bucket list, better add these babies to it.
Now, if we're to take a wild guess, then the Union Dunks are definitely dropping on Nike SNKRS. And you know what you'll need for a hot release like this? A Nike bot! But that shit will do you no good unless you got the right proxies and accounts. And last but not least, get yourself in the right cook group, and you're set for botting shit. Good luck yo!