Nike Union Is Adding Swag to 2022 and We Love That Shit!
Today, we're talkin' hot collabs, and nobody's doing it better than Nike Union in 2022! We're not getting just one collab, that's a rookie number. We're getting three… so far. 2021 was totally full of hot collabs between these two brands, and the momentum is still going on! We're totally checking out what's cooking for this year. And if you're still in a celebratory mood, make sure you check out the upcoming Chinese New Year Jordans!
Nike Union: Collab of the Year?
Well, Union LA seems to be getting straight-up sneaker perks, but we ain't complaining. After all, they're giving sneakerheads some pretty sick kicks. We still remember the first Jordan 1 Union collab. These babies go for lots of cash on the resale market, like a serious lot. But we ain't gonna get stuck on the past when we have so many hot releases in the future!
You Can Never Go Wrong with Dunks
Although we discussed the new collab here, the rumor of a third colorway is out! We talked about the two pretty cool light blue and dark navy colorways. Little did we know, a third purple and yellow colorway will join the partaaay! So we still don't have a release date for these, but they make our copping list hotter, no cap!
And a Sprinkle of Jordan 2s!
Alright, we said it once, we'll say it twice: 2021 and 2022 are totally the years of Air Jordan 2. First, we got the Off-White AJ2 collab, and now two Union Jordan 2s? Nike and JB are up to something, don't you think? Anyway, here's all we know about this collab. We're gonna get two different colorways, the first rocking a cool bluish-grey suede upper with blue details. The second colorway features a rattan brown suede upper with orange detailing.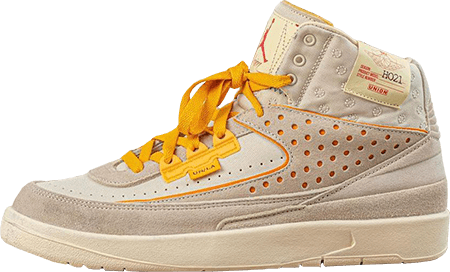 In other words, we ditchin' the premium leather uppers this time! And if rumors are true, the kicks will drop on April 8, 2022, and will retail for $225. But at this point, these are just rumors, you just gotta stay tuned to our blog for more updates!
Finally, Nike Presents a Brand New Cortez
Did you think that we're through with the news? Think again peeps! The latest addition to the Nike Union family is a… new take on the Nike Cortez. So it may not be everyone's cuppa, but the Cortez will come in a mix of canvas and suede. We're kissing the leather goodbye on this collab, so may as well go crazy! Although we still don't have any release info, we know that these babies will drop at some point in 2022.
But How to Get Any of These Nike Union Collabs?
So basically, when you have hype drops like the Nike Union collabs, you go for a Nike bot. Why? Because oh boyyyy the competition will be lit! You'll also need some seriously good Nike accounts and proxies. Why? Because you can never have a tasty meal without the right seasoning yo! So if you wanna get cooking on every Nike SNKRS drop, you gotta know what you're doing. Good luck fam!