CNY Jordans 2022: Roarin' the Way to the Year of the Tiger!
You know why we love New Year as sneakerheads? Because we know that awesome shit will definitely come our way! And in today's case, it's all the CNY Jordans we'll be getting soon. In case you're wondering what 2022 is, it's gonna be the Year of the Tiger! We know, we know, the theme is just a goldmine of creativity. And we all know that Jordan Brand aces the wild themes on kicks. So let's check out what the Year of the Tiger has in store for us!
But Let Us Throw It Back for Ya First
Yep, you read that right, this year it's all about tigers. But before we get into all the wild details of the kicks, we'd like to do a little throwback. 2021 was the Year of the Ox, and of course, JB had a say about that. We got the impressive Jordan 1 CNY in its bred colorway and Chinese-inspired additions. And if you ask us, that shit is worth every penny on the resale market! Today the pair is worth around $520, so if you own a pair and wanna flip, go for it.
CNY Jordans Hit Differently When They're Wild Cats!
So, we're gonna make it short because we can barely contain our excitement. The new CNY Jordans will be a Jordan 6 Low, Jordan Legacy 312. But naturally, the most exciting release is the new take on Jordan 1 Low! Now, the Jordan 6 Low's upper is a nod to Ge Kiln porcelain, and so is Jordan 312. The golden details give them kicks a touch of extra life on both of the midsoles!
And now, the star of CNY Jordans will steal the spotlight. Jordan 1 Low Year of the Tiger will come in a seriously wild colorway. The upper rocks a tiger pattern base and off-white overlays. But the coolest bit is the translucent gold outsole that shows the Wings logo! The icing on the cake here is that only 5,000 pairs will be available of the CNY AJ1 Low! So all in all, the pair is sick and a must-have if you like special edition kicks.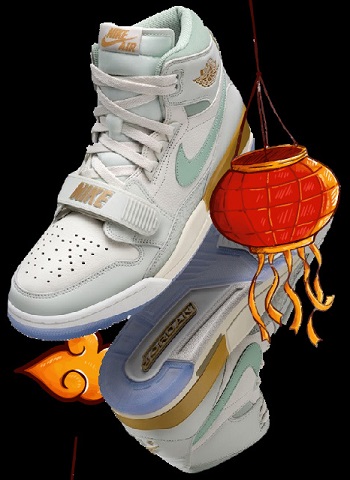 Release Deets
All these kicks will be dropping on December 30, 2021, only if you live in Asia. If you don't, you're gonna have to wait for the global release that won't happen until February 2022. We don't have any more release info, but the shittiest blog will totally keep you up-to-date!
And A Little Easter Egg too!
Just when we thought that this is all we're getting, we got some saucy leaks. Nike will push out a simple but lit pair of Air Force 1s. They're gonna have a sail canvas upper, with a tiger embroidery on the heels. The swoosh will come in an orange tiger print, along with the orange outsole! If you wanna read more about these kicks, check this out.
Get Them CNY Jordans Just Like That
If we know anything about Nike drops, it's that you're gonna have a crappy time if you're copping manually! So your only option to avoid a crappy L is to have a good Nike bot with you. That ain't all though, because good proxies and Nike accounts are what you need. And if you get yourself into a cook group, you'll totally be doing yourself a major favor! If you have all these, it's down to luck, so let's hope you're one of the lucky ones.