Nike Sacai Kaws: The Threeway Shit Keeps Getting Better!
What's up, shitfam? Issa new week with new kicks to drool over! And this time, we're legit loving what Nike, Sacai, and Kaws are throwing our way. We kinda thought we'd be over three-way collabs after the collection we got from Sacai. But well, we love to be wrong when we see releases like that! So here's all you need to know about the new Sacai Kaws Blazer Lows before drop day. If it's anything like the Jordan 4 x Kaws collab, shit's gonna be nasty!
KAWS 101
New to the industry? No problem! You just must know your collab ABCs. And one of the coolest collaborators in the sneakers industry, and pop culture, is Kaws. Long story short, Kaws is the American designer and artist Brian Donnelly. From graffiti to huge-ass sculptures, he got that incredible range. And some of his art pieces are two Jordan 4 colorways that we still can't get over. So in 2021, the sneaker world's eyes are totally on the new Sacai Kaws Blazers!
Nike Sacai Kaws Blazer Low Is The Best of Both Worlds!
And we mean that shit in every sense of the word. The kicks' design has the Sacai signature everywhere with the double everything. What's better than kicks with one tongue? Kicks with two tongues! And, of course, the double swoosh, double laces, and double soles are winners in our books. But when it comes to colors, we know for sure that Kaws left his mark there. Not that Chitose Abe's kicks were boring, but poppin' shades just scream Kaws and his Companion.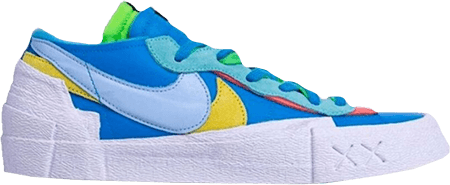 The first pair will come in a blue range of colors with some yellows and greens. The second is very red with a lil yellow and blue. Let's not forget about the double branding! The tongue has the Nike x Sacai x Kaws XX branding on, and we live for that shit. There's also the pretty cool XX engraving on the midsole. So if you ask us, we'd line up to get that pair… or just get an excellent Nike SNKRS bot that'll get shit done.
Release Deets
So, we got no exact dates, but if we trust rumors, the kicks will drop sometime in November 2021. They'll retail for $120, and every penny will be worth it, no cap. Why? Because if you go to the aftermarket, you can flip the shit out of it for up to $1,000!
Sacai Kaws Blazer Low FTW!
So how do you get the Sacai Kaws Blazers? Besides getting a Nike SNKRS bot, you'll need crazy good proxies and trustworthy Nike accounts. And well, better be an active Nike SNKRS member because that shit could come in handy. You know that new exclusive access is filtering users like crazy. Good luck!