Kobe 4 Gold Medal 2024: Just In Time For The Mega Olympic Bash!
Get ready for a major sneaker takeover in 2024! Nike's keeping the real jaw-droppers under wraps until the much-anticipated Olympics year. Superstars like Kevin Durant and LeBron James are gearing up for the 2024 Olympics. Naturally, Nike's spillin' the tea early, starting with the NBA Paris dunks. And guess who's joining? None other than the legendary Kobe Bryant! The iconic Kobe 4 Gold Medal is making a comeback from 2008, symbolizing basketball history and the indomitable spirit of a legend.
Kobe 4 Gold Medal: Past Victories & Future Greatness
In 2024, Nike's bringing back the Kobe Sneaker releases, kickin' it old school with a lineup that tells the Mamba's life story. Each pair's got a tale to tell, but the Kobe 4 Protro Gold Medal? That one's stealing the show.
The Kobe 4 "Gold Medal" is a throwback to '09! Throwin' it back to the Redeem Team's epic victory in Beijing. Furthermore, it's a nod to the unforgettable Gold medal clash between Spain and the USA at the '08 Summer Olympics.
So, with the NBA fans worldwide hyped for the return of Olympic b-ball,  Nike's serving up those classics just in time. 
Kobe 4 Gold Medal–All Eyes On this Gilded Award
This Kobe 4 Protro is keeping it real! Throwin' it back with metallic gold details, navy Flywire, and those snakeskin vibes. So, you can't miss Kobe's logo in gold, giving off major Olympic vibes, complete with Bryant's No.10 on the heels and "08.24.08" on the insoles.
It's a Protro style that's solid, with the added bonus of snakeskin and a gum contrast. This pair's bringing the heat!
Hold tight, as the Kobe 4 Gold Medal will drop in Fall 2024 for $190, via SNKRS and select retailers.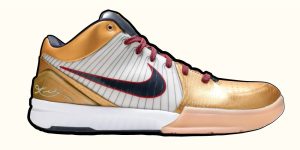 Gold-Mine Fever Alert: Kobe's Shoes, the Resell Hustler's Choice
Sneakerheads are already raking in the big bucks, and Kobe's kicks are the real moneymakers! Moreover, these shoes have hit astronomical prices in the resale market, becoming the go-to choice for anyone diving into the reselling business. Therefore, the Kobe 4 Gold Medal is no exception, pulling in a massive $999 on average on GOAT—definitely a must-have for your reselling checklist. But, you know the drill, exclusive Kobe drops are always in high demand. So, buckle up and get yourself a strong SNKRS bot if you're dead serious about securing this release.
Want the inside scoop? Check out this handy reselling guide to stay in the loop. And if you're taking the high road in the sneaker game, discover the best Nike bots in the industry right HERE!