Jordan 6 Red Oreo Is the Treat We All Need in 2022!
2022 is all about focusing on different silhouettes for Jordan Brand. We can feel shit, you know? The 1s are taking a step back while the other silhouettes are shining. That left us with some sick lineups and amazing colorways to fill the AJ1-shaped void in our hearts. Okay, we're just trippin', but the releases are serious bangers, and no one can say otherwise. One of these releases is the upcoming Jordan 6 Red Oreo. So here's what we know about these babies, and why you'll wanna cop them!
Jordan 6 Red Oreo Is a Summer Snacc
Come on, you can't call kicks Oreos and not expect us to make some delicious puns. Anyway, if you were one of the SS20 red Supreme Oreo fans, you're gonna love this! The new Jordan 6 Red Oreo looks so simple but cool at the same time. The upper will come in white leather all over, along with the midsole. But, it gets interesting right here!
The kicks take on a new hot layer with the hits of red on the midsole and the heel tab. But the red isn't boring, because it has white paint speckles all over it. The red Jumpman stitching also gives the sneakers a really good flair. And finally, the look is complete with translucent ice soles. So, all in all, the kicks look epic, and they're definitely worth the flex!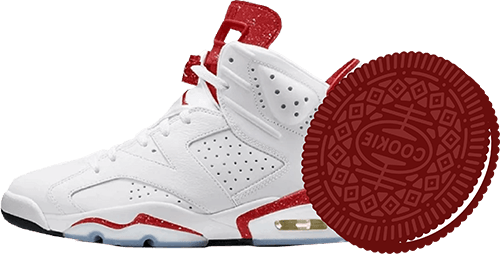 Release Deets
Jordan 6 Red Oreo will drop on June 4, 2022, for $200. Honestly, these babies are definitely worth the investment because they're good-looking and profitable! You can flip a pair for $327 on average. You see, that shit'll get you at least $100 in profit. Also, it's a good replacement for 2010's AJ6 Oreo, which is worth $426 on average today! So make sure you're ready for release day because lots of peeps will be coming for the kicks.
Get That Yummy Jordan 6 Red Oreo
The new Red Oreos will drop on Nike SNKRS naturally. But y'all know that a Nike SNKRS drop isn't always a trip. The memes we've gotten about all the Ls are enough to drag us back into reality. But don't worry, you can avoid disappointment by getting a great Nike bot like TSB. Anyway, a bot on its own won't give you the W you're looking for. You gotta get the right proxies and Nike accounts to run that shit and cop multiple pairs! And if you wanna stay in the sneaker loop, make sure you join a good cook group. But you can also keep checking the shittiest blog for the latest news!