Jordan 1 University Blue: $330 Profit Per Pair! [Mar. 2021]
The University of North Carolina (UNC) was the original homeland of one of the legends of basketball. Michael Jordan kicked ass on the court even as a college student! From a junior in UNC to the third draft pick, light blue became as famous as the bred colorway. With that in mind, the new Jordan 1 University Blue rocks the colorway as if there's no tomorrow! But that's not all, because when TSB cops that pair for you, it'll make you a tiny bit richer. Maybe that could help you go grocery shopping in the new Nike Dunk City Market! And who doesn't wanna have some extra cash on the side to go through the sneaker rotation like a breeze?
Tar Heels at Heart!
If you're a real fan of Michael Jordan's legacy, the new Jordan 1 University Blue is the pair for you. First off, the color blocking is the way we like it: classic as shit, just like the 1985 Chicago 1s. We've got the classic white leather base and black leather on the collar. On top of that comes very luxurious university blue nubuck overlays! Finally, we got a black swoosh, wings logo, and laces to complete the look. So all in all, the pair checks all the awesome boxes!
When Is Jordan 1 University Blue Dropping?
This pair was originally gonna drop in late February, but now we know it'll be available on March 6, 2021. So if you're still looking for ways to get Jordan 1 University Blue, your only option is to have TSB! It really gets shit done the right way and destroys 96% of Nike releases.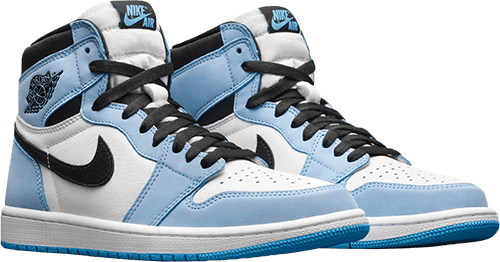 The kicks in adult sizes will retail for the usual $170. But we're also getting the release in pre-school sizes for $80, and infant/toddler sizes for $60! So if you grew with the Jordan legacy and now have kids, it's time for some sneaker-ed.
$$$ Talks!
We love the legacy, and we certainly dig the colorway, but what's in it for you if you're flipping? Aha! Jordan 1 University Blue resells for about $550! That's $400+ profit for you, so imagine if you copped several pairs? Ka-ching, baby!
Where to Get The Jordan 1 University Blue
Jordan 1 University Blue will drop on Nike SNKRS. That means you'll need to run a sneaker bot to cop multiple pairs! And who's better than the crappiest bot in the game to secure them kicks? But if you don't have TSB yet, hop on to @The_Shit_Bot and take part in our giveaways. You could be the next TSB key winner! And if you are, don't forget to flex your poop with us!
More University Blue!
You thought that's the last you'll see of the awesome colorway? Think again! Later this spring, we'll be getting the Jordan 4 University Blue because why not. The more blues, the merrier! So far, we know that they're dropping on April 28, 2021. We'll make sure to remind you of the release on our blog. So keep it locked on there for the hottest sneaker news!