Nike Dunk City Market Is the Pair to Go Grocery Shopping In!
Grocery shopping will have a new meaning pretty soon for you if you're a sneakerhead! If you're a fan of City Markets and shopping, you'll enjoy the new release. Even though Covid-19 ruined the simplest thing like going to street markets and mingle, it's alright. We've got the new Nike Dunk City Market to entertain us! So what's up with this colorful pair, and why is it worth running TSB? Well easy, because TSB makes sure you get the hype shit you want every time. Jordan 1 Silver Toe and the Medium Curry Dunks are proof enough!
🔂RT – Win TSB 💩

👑OVER 3000+ CHECKOUTS ON TODAY'S RELEASES👑

🔶 1500+ AJ1 'SILVER TOE' ON U.S🇺🇸

🔶 1500+ CHECKOUTS ON EU, CA, ASIA, JP & AU 🇪🇺🇨🇦🇲🇾 🇸🇬 🇯🇵 🇦🇺

– DUNK LOW MEDIUM 'CURRY'
– THE UNDERCOVER X OVERBREAK
– CLOT X AJ14 pic.twitter.com/sGJrBqyLax

— The Shit Bot (@The_Shit_Bot) February 19, 2021
Nike Dunk City Market: Smart Eco-Responsibility!
The pair's initial name was Nike Dunk "Thank You for Caring". It features different prints and patterns on each section of the kicks. It's a pretty awesome mix of colors that reminds you of the city's street markets. Some of the colors are yellow, green, blue, and red. A translucent material makes up the swoosh and the tongues. The graphics are also a nod to Blue Ribbon Sports, the 1964 name to what became Nike in 1972!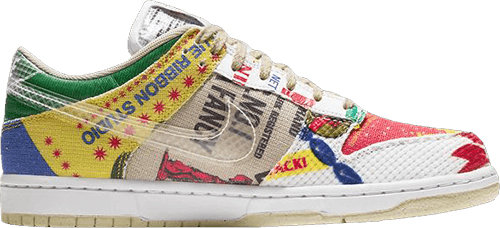 Moreover, all the action goes on in the tongue. In addition to the nutrition label-like tag, we get a stash pocket! We've previously seen this stash pocket on the Grateful Dead Dunks! But surprise surprise, it's not empty in there this time. You'll get a very interesting shopping bag to help protect the environment. It actually says "Stop using plastic bags. Use this one instead. Love your home."
Cop the Market Dunks
Nike Dunk City Market will drop on March 4, 2021, and will retail for $110! It will be available in infant and toddler sizes too. And you shouldn't miss out on that release, for good reason. The kicks currently resell for an average of $1,790. But if it's a country exclusive, we can bet that resale will stay that high! Even if that value drops, it'll probably stay worth your while! It will drop on Nike SNKRS US, but we don't know whether it will be available for other countries.
Could Nike Dunk City Market Be the Next Big Thing?
Well, it could very much one of THE PAIRS of 2021, but it's still too early to judge fam. We still have 10 other months to go. And who knows what can happen in that much time? Anyway, you should be ready for any hype Nike release with TSB. But if you don't own a pair, you should head off to @The_Shit_Bot and take part in our giveaway! You could be the newest member of the community that poops hard.