Jordan 1 Silver Toe: Shiny with a Chance of Drip! [Feb. 2021]
Who doesn't like metallic and shiny kicks? We all do! In fact, 2020's Jordan 4 Metallic pack kicked off the metallic craze and we can't get enough. So this February we're gonna be getting our favorite silhouette in a pretty amazing colorway. If you're into celestial feels and space gadgets, the new Jordan 1 Silver Toe will be the next pair on your roster. So ready or not, here we go!
Have a Very Flashy Winter with Jordan 1 Silver Toe!
We all know that winter outfits are mostly dark and gloomy. So why not add some flair to that shit with a touch of metal? The new Jordan 1 features a white leather base with black overlays. But that's not all, the life of the party is the metallic silver on the toebox and heel area. The colorway reminds us of the black toe design. The toebox is silver though, that's obviously why its name is "Silver Toe". The inspiration behind this colorway is space flight, which explains the metallic vibes. Other cool 2020 space kicks we remember are the Nike Space Hippie and Jordan Crater!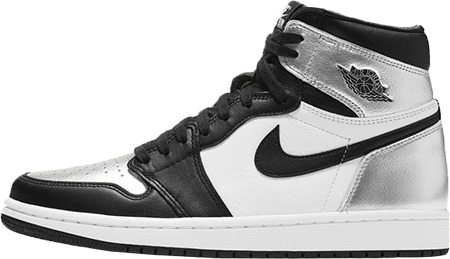 The Jordan 1 Silver Toe will drop on February 12, 2021, and it's a women's exclusive! The adult version will retail for $170, but we ain't done yet. If the mommies wanna go all sneakerhead with the fam, the kicks will be available in pre-school and infant sizes. The first will retail for $80, the second for $60. And if you manage to score the adult kicks with TSB, you can flip 'em for about $400. So, cha-ching y'all!
TSB Pooping Metals Now?!
Well, besides it BEING the golden poop, TSB does a lot! This release will definitely require a sneaker bot because it's a pretty cool one. The guys with smaller feet and the ladies will be checking these out. So make sure you keep track of things with @The_Shit_Bot. And if this isn't your cuppa, maybe checking out our blog will get you pumped about other releases! In the meantime, stay tuned and stay stylish! 
🚀60K FOLLOWERS GIVEAWAY🚀

🔄3 RANDOM RTS -🥇TSB Key🥈$200🥉$100

Another huge milestone achieved thanks to the support of our users & followers from all regions🤎

TAG A FRIEND WHO NEEDS THIS SHIT💩 pic.twitter.com/zommO0m34Q

— The Shit Bot (@The_Shit_Bot) January 20, 2021