Bearbrick Nike SB Blazer Worth 18 Times Its Retail Price!
Y'all remember Medicom's latest Nike SB Dunk collaboration? The insane Japanese Nike fusion took on a black faux fur exterior and is listed among the most expensive shoes to drop in summer 2020. It is currently reselling in the $300-$400 range on GOAT. Which ain't too shabby for a faux fur Dunk in black. With that in mind, the upcoming Bearbrick Nike SB Blazer is guaranteed to spark up your fur fetish again. 
The whole Medicom bear theme has literally grown on Nike. This time, a Nike SB Blazer drops the soft cover in a sail-inspired colorway. Kind of reminds us of the Stussy Air Force 1 colorways that dropped a few days ago. The pastel versus black colorway dynamic might just be a peep into an upcoming Japanese trend.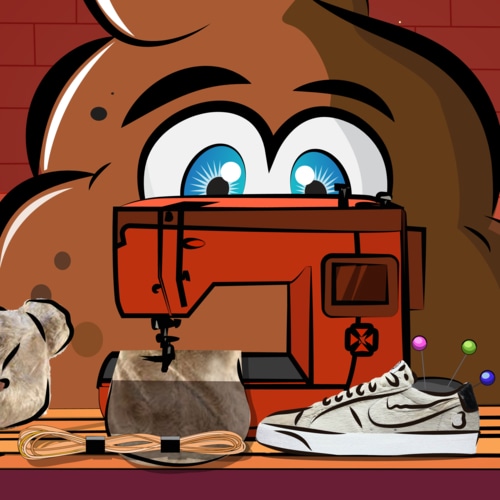 Japanese Pop Culture Tones It Down a Notch 
For a toy-manufacturing pop culture brand, Medicom's latest Nike collaborations are falling pretty far from the tree. Both the Nike SB Dunk and upcoming Bearbrick Nike SB Blazer are minimalist kicks. Similarly to the SB Dunk, the Nike SB Blazer pair takes on a shaggy pony exterior in a soothing sail colorway. Expect it to drop on December 26 for a retail price of $80. 
Bearbrick Nike SB Blazer: From $80 to Over $1,000!
And fam, expect yourself to cop the faux fur out of this one at retail. Cause it is reselling for $1,400 on average on GOAT. That's about 18 times its retail cost! You'd be insane not to cop this shagginess the day after Christmas. Plus if you're staying in this Holiday season, check out the Nike Christmas shoes and the Nike Kobe 6 Grinch. Even pair up these jolly kicks with a super dope sneakerhead Christmas present! Retail is your game if you plan on treating the whole family this year. Keep posted @The_Shit_Bot for Holiday prizes and giveaways. You're gonna need it if them cousins latch on on Christmas morning.
And if you've already got a TSB copy running, save the date on this pony. The profit you'll make from a single pair of these $80 kicks will redeem your Holiday treasury big time. We hit the super limited Bearbrick Nike SB Dunks TWICE this year. And we plan on hitting it again this Christmas!