Nike Air Force 1 Skeleton Orange: Jack-O-Lantern Cooks Bones
Third drop's the charm, ain't it? The Nike Air Force 1 Skeleton debuted its first white colorway on Halloween 2018. Then dropped its arguably most popular black colorway the year after, also on Halloween. And this year, we're getting some sweet pumpkin vibes from the third-time charmer. In the spirit of Halloween Nikes, this silhouette haunts the living ghosts out of us with its x-ray inspired graphic. So, if you're excited to cop the third skeleton along with the Nike Air Trainer 3 Dracula and a bucketful of other hyped kicks, RT for the chance to win an official TSB copy! We ain't shitting you about our consistent giveaways, fam. When we score Ws, we like for you to do the same. That's the house rule. If Isaiah Thomas be waiting to cop with the best Nike bot, you know we're here to win this for real.

Nike Air Force 1 Skeleton "Orange" Is a Third Meal
Ain't nothing juicier than a Nike classic getting spruced up for an occasion. Even if it is All Hallows Eve with flesh-melted bones and what not. The white colorway of 2018 is one heck of a resale spike with its value reaching up to $918 on GOAT. And although there ain't nothing more satisfying to our alternate egos than a black Air Force 1, black bones seems to be falling behind on the aftermarket. By barely even making it to $350. No worries though because that one's made for flexing! Look at it with one eye closed and it'll look like you're air floating on some dude's skel.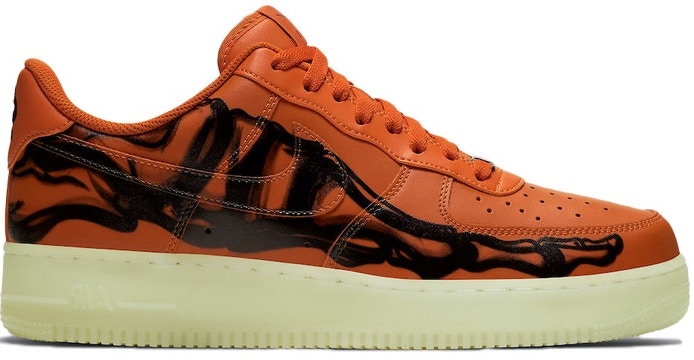 If Frankenstein Were a Sneakerhead
As for the Jack-O-Lantern of pump-kicks, it appeals to both ventures. The Air Force 1 Skeleton Orange is a trick-or-treat flexing icon AND reselling prize. It's valued at a solid $400 with the frequent $650 raise. Even the Nike branding on its tongue is written with bones! You'll even stumble upon that broken leg on the sneaker's insole. It's a good thing its signature glow-in-the-dark midsole will keep you from tripping. So, if you're copping it with TSB, set some pairs for your next resale gig and flex what's left of your copping victory. Expect the 2020 silhouette of the Nike Air Force 1 Skeleton to drop on October 28th for a retail price of $130.