Weekly Shitpost: Nike Strawberry Cough Dunks Back for Flu Season!
Heya shitfam! This week is brought to you by the seasonal sneezing and awesome kicks. So if any or both of these apply to you, better get crackin'! We got you all the saucy news of last week in one place because we don't want you to miss out. From the hype Nike Strawberry Cough Dunks to Donda Academy, we're really seeing it all in 2021. Let's check out what went down this week, and why you should care about all of that shit!
Nike Strawberry Cough Dunk: Is It Finally Dropping?
Okay, the name kinda mentally takes us back to 2020, and we know what a shit year that was. But bad memories aside, we got some bomb kicks back then! One pair didn't drop tho, and it became like a myth between sneakerheads. The Nike Strawberry Cough Dunks are the kicks that didn't drop. We all expected them to be available on 4/20, but just like many drops, those kicks didn't make their debut, due to COVID-19. And we're this far in 2021, and we still didn't get the strawberry-flavored kicks.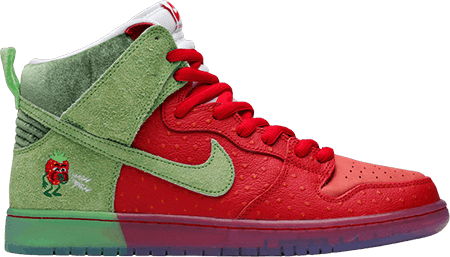 But that shit's about to change! You know a drop is coming soon when Nike blesses us with official images. We still got no release date, but they got our hopes up! And you know, rumor has it that the Nike Strawberry Cough Dunks are coming on October 22, 2021! If these end up dropping soon, we're gonna feel sorry for the peeps who paid $1,800 for them. But you know, ironically, good job for the seller! You're definitely gonna need a Nike bot for this drop homie because we're all gonna go for it. Better be safe than sorry!
A Virgil Abloh Clapback Is Worth Money… But so Are the Kicks!
Oh, we love us some drama *dramatic swoon*. And when Virgil replies to a comment on Instagram bashing his kicks, you know it's saucy. First off, it was almost like a meet and greet out there on that IG post, you can check it out here. But our absolute favorite bit was Abloh's reply to someone saying that the black/blue Off-White Jordan 2 is garbage. He said, and we quote that shit: "being completely stuck in the past is scary…. if not criminal 😅✨®"
So apparently, the inspiration behind the kicks is an actual Michael Jordan AJ2 pair sitting in the archives. The kicks will also have MJ's signature on them, and they're placed in different places. Because if you mimic a signature, you do it right, not by printing that shit at the exact same place. Anyway, the kicks could drop on November 12, 2021. But whether or not that's true, well, we'll find out soon enough and give you the updates!
Kanye West Starts Donda Academy… and New Kicks?
Talk about throwing a tribute. Besides the record-breaking album, Donda's name will become immortal with a whole academy! Kanye already recruited some promising names in basketball. Some of the names are Jahki Howard, Jalen Hooks, and more! That's not all fam, we also got a new basketball Yeezy in the works. The YZY BSKTBL KNIT looks like Ye's next attempt at a basketball pair. Who knows? Maybe this time Donda Academy students will actually play with these!
The kicks have a sock-like knit upper that kinda explains the whole "KNIT" in the title. We don't know what's up with the support shit, but we totally wanna see where this will go. The soles look exactly like the QNTMs so far. And who knows? We could get a lifestyle version like the QNTMs too! Anyway, according to leaks, the Knits will drop in December 2021, for $260!
Patta Air Max 1: Cool Like a Summer Wave!
Aight, the Air Max silhouettes were always the go-to pair of beaters for us. But that shit's also about to change homies! It looks like the hype is starting to build around them thanks to Travis Scott. But the pair we have today ain't even a Cactus Jack collab, it's just an awesome one with the Amsterdam brand Patta. The streetwear brand has an awesome story that you can check out here.
You know what's more awesome than the story? The Patta Air Max 1 that'll drop on October 15, 2021, on Nike SNKRS! The pair already dropped on the Patta website on Oct. 8 for $160. The special box pair comes with a bracelet gift, and it's worth $512 on average. Meanwhile, the wavy kicks in the regular box go for around $484. So make sure you don't miss out on this killer collab, because we'd rock the shit out of it!
Nike Strawberry Cough Dunks and More: A Week Full of Hype!
This week was so wild yo! From a meet n greet in a comment section to potential release dates, we're on the edge of our seats. You totally don't wanna miss out on the Nike Strawberry Cough Dunks once they drop. But you also don't wanna miss the Patta Air Max 1s. So your safest option is to get a bot homie, with the right Nike accounts and proxies. Once you're all set, it's gonna be down to luck, because it's Nike SNKRS, ya know. But well, you'll know that you did your freaking best!