Notre Nike Dunk High: When Hardwork Meets Hot Designs! [Jan. 2021]
You're definitely living in a different world if you thought Dunks would be staying in 2020. It was a rough year and we all know it. But we got so many hot releases that we couldn't keep tabs on them all, and that's worth it! Luckily, if you missed on some of last year's shit, 2021 is the year of new chances. So fire up the best Nike bot in town and get ready to roll! The new Notre Nike Dunk high is stealing the show this month. 
🔁2 RANDOM RTS – 🎁WIN TSB💩 🎁WIN $500💰

It was a good year dominating SNKRS – A shit load of success & millions of reselling profit!🦾

Thanks to everyone involved in our awesome project❤️

READY TO GET MORE SHIT DONE IN 2021😎 pic.twitter.com/EGAx12WWtm

— The Shit Bot (@The_Shit_Bot) December 31, 2020
Chicago Meets Oregon!
Before getting into the details of the release, we need to know what Notre is. So, Notre is a Chicago-based sneaker and clothing shop. The co-founders Michael Jaworowski and Jose Villanueva wanted their shop to leave a positive print on the community. And they did, because the community is a big part of Notre (which means "Our" in French). So, take the shop's goal, and Nike's constant interest in empowering businesses, and you got a collab!
Notre Nike Dunk High Steals the Show
The new collaboration seems to have taken the spotlight in early 2021. And if we're reading this right, the new kicks could be one of the year's highlights! So, down to business: we'll be getting two pairs of Notre Nike Dunk High. One will be a Notre exclusive, the other will also drop on Nike SNKRS. The Notre exclusive features white leather with off-white suede overlays. The second pair, called the "Blue Void", features light blue leather and hairy blue suede overlays. Both kicks feature Notre's trademark holding hands. The whole collaboration's inspiration is workwear and durable apparel. That's why we can see laces that look like those on work boots, and triple stitching!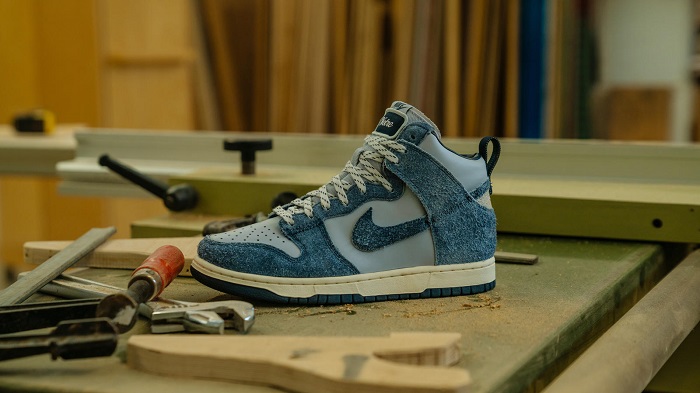 Both kicks are must-haves, and that's the ugly truth. They'll first drop on Notre's website on January 21, 2021, for $150. The Notre Nike Dunk high will drop on Nike SNKRS on Jan. 23 though. So better roar up TSB for the shitshow! The cream pair currently resells for $1,000 while the blue void goes for about $950. That's a heck of a number, and if the drop is low in number, that number could shoot up!
TSB Killed It in 2020…
… and will continue to do so in 2021! So come on peeps, get ready to flush the Notre Nike Dunk high soon. And keep an eye on our blog to know the latest sneaker news! Did you know that the Jordan 1 PSG and SEVEN different Dunks are dropping soon? Well, now you definitely know.