Nike Go FlyEase Gets Shit Done Even Faster Than Usual!
Just when we thought that FlyEase is the peak of technicality and ease of wear, Nike strikes again! From easily wearing your kicks using one hand, the brand transcended their work to hands-free wear. And we shouldn't forget all the tech they packed into Nike ISPA. Now, it's time for practicality and tech to take center stage, and we're lovin' it! So take a peek at the new Nike Go FlyEase because we love us some very chill kicks. And speaking of chill n fresh, the new All-Star Dunks look absolutely fab-tastic!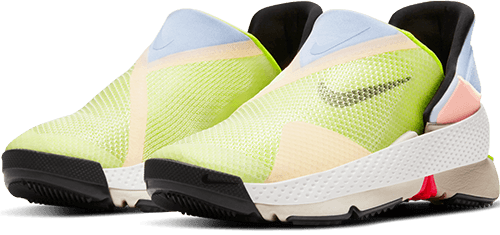 Nike Go FlyEase Lifts Sneaker Tech to New Heights
From self-lacing sneakers to one-handed handling, to beads cushioning, we thought we saw it all! But no, the Swoosh always made sneakerheads believe the sky's the limit, and the brand lives by it. Anyway, the upcoming Nike Go FlyEase is a pair of kicks that anyone can make use of. Athletes, parents, kids, people with disabilities can all benefit from this innovative design. The kicks have midsoles with hinge-like features, making them easy to bend.
So, as we've seen, so much technical and mathematical crap goes on behind the scenes. Chill, we won't go into all that. But what you do need to know, is that the sneakers are durable despite the obvious wear it goes through! And how to wear the kicks? Well, just slip your foot in, and use your other foot against the heel to pull your foot out! The two positions are "open" and "ready". 
Whens and Wheres!
The new Nike Go FlyEase will drop on February 15, 2021, for $120 only. And that's pretty cheap for such a piece of tech! Three different colorways will be available: White/light green/blue, black/purple/dark blue, and all-black. So whether you've got a bubbly taste or prefer low-key colorways, you'll find it!
Unfortunately, the kicks will only be available for select members at first. A general release date still isn't available so far, and you know what that means! The resale will probably be high, especially if the kicks are exclusive. And finally, you should get ready to cop on release day with TSB. Why? Because it's the best Nike bot, with a consistency that few can compete with! So make sure you keep following @The_Shit_Bot for the latest news and updates!